'Outstanding contribution to Regional Arts' award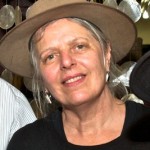 21 October 2012: Merrill received an 'Outstanding Contribution' Award at the national Regional Arts Australia conference in Goolwa, South Australia, in recognition of her work to establish the Kalari-Lachlan River Arts Festival in Forbes, NSW, through her community cultural development initiative, The Kate Kelly Project.

"As a writer, I believe passionately in the power of narratives to effect change, and in the responsibility of arts workers to be agents of change," Findlay said. More >>
And more >>
Preview of 'Songs For Kate' documentary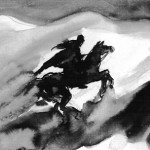 Youtube snippet of Songs For Kate >>
Songs for Kate, a documentary by Tracy Sorrenson and her team about the creation of the Kate Kelly Song Cycle, will be screened at Mezzanine Cafe in Forbes, at 6pm on Saturday, November 17, 2012.  The Song Cycle music was composed by Ross Carey to a libretto by Merrill Findlay, and premiered at the 2011 River Arts Festival. This will be a "rough cut" screening, which means that  it's an audience test … so Tracy will be seeking your feedback! Also the opening of artist Adrian Symes' Kate Kelly Series art exhibition created especially for the documentary to help visualise historic events.

March 2013: Youtube snippet of Songs For Kate, a documentary by Tracy Sorenson about the making of the Kate Kelly Song Cycle >>
And another spin-off from my Kate Kelly Project: see Adrian Symes' video interpretation of the Kate Kelly story, using drawings he created for Tracy's doco, Songs For Kate  >>
Meanwhile …
Merrill is trying to finish a creative PhD project which traces the journeys of asylum seekers and refugees from Afghanistan to Australia and Western Europe.  Her fieldwork has taken her to Pakistan, Turkey, Greece, France, Britain, Thailand, Malaysia and Indonesia and to numerous places in Australia, including Melbourne, Sydney, Canberra, Broome, and many rural towns and villages in NSW and Victoria. A five month Research Fellowship at Universitas Terbuka, Indonesia, in the first half of 2012, gave her an opportunity to meet dozens of refugees and asylum seekers waiting to get to Australia. Her PhD dissertation will be transformed into a literary non-fiction book for mainstream publication. All expressions of interest from publishers will be gratefully considered! Read Merrill's early reflections on this project from Quetta in Pakistan, way back in 2006 >>
The Kate Kelly Song Cycle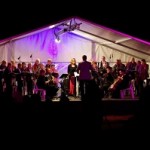 The Kate Kelly Song Cycle, a chamber opera and musical tribute to bushranger Ned Kelly's sister Kate, by Forbes-based writer Merrill Findlay and New Zealand composer Ross Carey,  premiered  on Sunday 4 September, 2011, as the headline act for the inaugural Kalari-Lachlan River Arts Festival and the opening event to the NSW State Landcare & Catchment Management Forum. Film maker Tracy Sorenson is now working on a television documentary about this project.   More >>
7 September 2011, ABC Central West: Forbes plays host to world premiere of Kate Kelly Song Cycle >>
30 August 2011, Bush Telegraph, ABC Radio National: Greg Muller talks with composer Ross Carey, soprano Sian Prior and librettist Merrill Findlay about the premiere of The KK Song Cycle at the River Arts Festival. Listen here  >>
13 June 2011, ABC Melbourne:  Sian Prior talks about the River Arts Festival and the Song Cycle with Jon Faine, 774 ABC Melbourne. Listen here  >>
Kate Kelly on the Lachlan, c.1885-1898
February 2012: Publication of a scholarly article, Kate Kelly On The Lachlan, in the very conservative international peer reviewed journal Rural Society, 21:2, pp. 136-145 [pdf 92KB] Read it here >>
5-6 May 2011. A paper on Kate Kelly's life and times in and around Forbes presented  at The Land: Past, Present, Future symposium, Charles Sturt University, Bathurst.  Read it here >>
Themes linking Kate Kelly's time with our own
Kate Kelly was a country girl. She was born into a family of rural 'battlers' for whom male violence and delinquency were 'normal', and at a time when 'the bush' was much more culturally diverse than is generally remembered today. She also lived through an era of great conflict in rural Australia… More >>
Understanding place through narrative
First published in Frank Vanclay et al (eds), 2008, Making Sense of Place: exploring concepts and expressions of place through different senses and lenses, pp. 13-22, National Museum of Australia.
No continent can be invaded, no massacre committed, no abuse perpetrated, no people subjugated, vilified or discriminated against, no land degraded, no wetlands drained, no climate changed, no species made extinct and no creeks or rivers despoiled – unless stories make it so. The reverse is also true … More >>
River stories: genealogies of a threatened river system
First published in the British international peer reviewed journal Futures, 39 (2007), pp. 306-323, a special double issue on Australia guest-edited by Merrill. The Kalari-Lachlan River Arts Festival in Forbes, NSW, now celebrates this river and its people.
I write this in a small town in central New South Wales on a river that is slowly meandering towards its terminal wetland, the Great Cumbang Swamp, in the state's semi-arid Riverina. For most of its 1500 kilometre journey this river flows through Wiradjuri country to trace the presence of Baiamai, the father of creation, Wawi the rainbow snake, and other ancestral beings who shaped and 'animated' these inland plains. Wiradjuri descendants know the river as Galiyarr, or Kalari, and two, perhaps three thousand generations of their ancestors are buried in its alluvium. [pdf 180 kb]  >>
Romancing the grindstone on Gunningbland Creek
First published in Futures, 37:8, October 2005, pp. 893-903.
The days are lengthening, crops are ripening, and the air is sweet with Spring as I write. For the first time in years of drought there are pools of muddy water in Gunningbland Creek, the ephemeral stream that meanders across our farm towards its river, the Lachlan, in south-eastern Australia; and a brood of grey teal ducklings is dabbling in the sparse rushes and nardoo, a native aquatic fern, now miraculously regenerating after the recent rain.  More >>
Beyond Australia's Great Divides: from Terra Incognita to Cognita
First published in The Hitchers of Oz: Hitchhiking Stories and Observations from Australasia and Beyond, edited by Tom and Simon Sykes, Interactive Press, 2009, pp. 57-70.
Australia is divided east from west, the coast from the rest, by a cordillera of low mountains, uplands and dissected plateaus stretching from Cape York Peninsula in Queensland's far north to the island state of Tasmania in the Great Southern Ocean. On one side of this watershed is the densely populated Pacific seaboard, on the other the sparsely populated inland. The twain need never meet. Indeed, the coastal plain and the remainder of the continent might as well be completely different countries. More >>
Republic of Women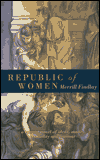 Merrill's first novel, a literary fiction published by University of Queensland Press, 1999.
The phone rings, someone pushes the security buzzer and Daphne Downstairs pops in the back door. At the very same moment, Marie hits her thumb with the hammer. Goddamn, she says and sits on a fruit crate. The phone's still ringing, the buzzer's still buzzing and now her thumb is throbbing. She sucks it then leans out the window. Look, I don't believe in god and I'm really busy, she tells the two Jehovah's Witnesses at the security door below. More >>
Read what the reviewers thought about Republic of Women >>
Eddie Mabo Comes Home
First published in Good Weekend (Fairfax), 1 June, 1996.
It's hot on the rim of this extinct volcano at the far northern end of the Great Barrier Reef. Bonita Mabo has been waiting in the shade of a battered fibro shed all morning. A small crowd has gathered around her: children, grandchildren, siblings, in-laws, cousins, aunts, uncles, members of the Meriam Council of Elders, young warriors from her late husband's Piadram clan, a documentary film crew, plus this writer from Melbourne. And there it is, the light aircraft descending from the sky to bring the exhumed remains of Edward Koiki Mabo home to Mer, or Murray Island. More >>
The timeless bond between birds and people
First published in The Age Weekend Extra, Melbourne, Saturday 22 August, 1998.
As the days grow shorter in the far-off waters of the North Pacific, hundreds of thousands of hungry, dun-coloured seabirds, millions even, begin their long annual flight south to Big Dog Island from their Arctic feeding grounds to mate, lay their eggs and rear their young, the next generation of short-tailed shearwaters, or mutton birds. More >>
Balochistan, the invisible war
First published in Arena Magazine no. 91, Oct-Nov 2007, pp. 36-38.
Even my Pakistani friends warned me about Balochistan, and not without reason. In the days immediately before I was to catch the train to Quetta, the provincial capital near Pakistan's borders with Afghanistan and Iran, 'terrorists' detonated a bomb in a shopping plaza in the city's military cantonment and fired rockets at two of the regular express trains below the Bolan Pass.  More >>
Eritrea, just a question of time
First published in The Canberra Times, 7 June, 1989.
In a stone room dug into the side of a narrow rocky gorge we bent towards a tiny transistor radio. It was news time and we were listening to the Voice of the Masses, the frequency of the Eritrean People's Liberation Front, transmitting from deep within Eritrea's "liberated zone". More >>
Greening the family farm
First published in Habitat Australia (Australian Conservation Foundation) way back in February 1988.
Country town. Interstate bus. They're all there to meet me. It's spring time and the roadsides are splashed with purple Patterson's curse and the exotic yellow daisies we call pee-the-beds. The crops are young and green, just starting to head, and the trees silhouetted against the setting sun as we drive home — well, I'm afraid there aren't many of them left these days, except along the road reserves. European agricultural practices haven't been good for trees in this country. Nor for the land itself. >>
Last updated 13 March 2013.
Permalink: www.merrillfindlay.com