I contain multitudes
Walt Whitman
Merrill Findlay is an Australian author, independent scholar, bricoleur, cultural development practitioner, social innovator, gardener, traveler, creative risk-taker and ….
Current activities
BIO NOTES
Merrill was born in Condobolin, a small country town in Central Western New South Wales, in the 1950s, and spent most of her childhood on her family's farm in the neighbouring shire of Parkes. After living in coastal cities for decades, she returned to the inland to be close to her family and the farm she grew up on. She now lives in the small country town of Forbes.
She left boarding school in the early 1970s to spend a couple of very bohemian years in inner-city Sydney before beginning her professional writing career with a country newspaper. Her work since then has included a critically acclaimed novel, Republic of women and numerous essays, speeches, multimedia works, feature articles and scholarly papers published in Australia and overseas, an opera libretto, The Kate Kelly Song Cycle, Homelands, a creative Ph.D. project completed through the Creative Writing Program at Canberra University, an essay based on her Ph.D. research, How Long Must I Wait, published by Griffith Review, and, most recently, Big Skies Collaboration and the Skywriters Project, for which she co-curated and edited the anthology, Dark Sky Dreamings: an Inland Skywriters Anthology (IP, November 2019).
IDIOSYNCRATIC OEUVRE
Merrill's work is distinguished by her deep commitment to a range of progressive social movements in Australia and elsewhere. It is within this context that her writing is best understood because her publications and other creative endeavors don't fit comfortably within any single 'genre' or domain. As a friend once commented, "People don't know what to do with you, Merrill, because you don't fit into any single box!" (And, indeed, why should I conform to market norms? )
HIGHLIGHTS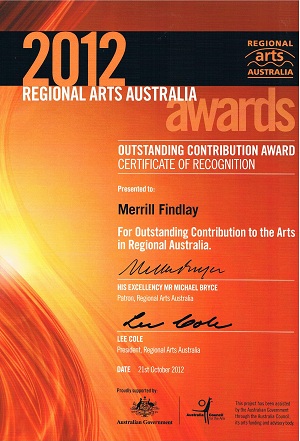 Merrill was awarded a Regional Arts Australia 'Outstanding Contribution Award' in 2012, in acknowledgment of her contributions to the Arts through her Kate Kelly Project and the Kalari-Lachlan River Arts Festival. 
"As a writer, I believe passionately in the power of narratives to effect change, and in the responsibility of arts workers to be agents of change," Findlay said. More >>   and more >>
Yet more on arts festivals: The transformative power of a rural arts festival, a conference paper Merrill authored for the Australian Regional Development Conference in Albury, 2014. More >>
 Research Fellowship in Indonesia
Merrill spent much of 2012 as a  research fellow at Universitas Terbuka in West Java engaging with refugees from Afghanistan and Pakistan to Australia for her Ph.D. project, Homelands >>.
Read her reflections on Pakistan written in 2006 before she began her Ph.D. project >>
Cultural Exchange
In 2013 Merrill participated in The Australian Pavilion at a rural arts Festival in Wirksworth, Derbyshire, as part of a cultural exchange between the Engish Midlands and Central Western NSW.  Read Maryanne Jacques' article, Rural To Rural: International Arts Links, in The Western Advocate, 6 October 2013 >>  And/or Jason Thomas's Swapping Festival Ideas, in The Forbes Advocate, 12 September 2013  >>. And/or Merrill's own posts from Wirksworth on her blog Rural Arts Festivals >>
The Kate Kelly Song Cycle
A chamber opera by Merrill and composer Ross Carey premiered as the headline act for the inaugural River Arts Festival and the opening event for the 2011 NSW State Landcare and Catchment Management Forum. More >>
Early work
Merrill's early work includes a coffee table book, Carnarvon: reflections of a country town, completed as part of a pioneering residency for the Western Australian Arts Council in the isolated Gascoyne region of northwest Western Australia in 1983; numerous speeches about ecological sustainability written for prominent environmentalists associated with the Australian Conservation Foundation, including the 1990 Charles Joseph La Trobe Memorial Lecture, The Environment Movement and its role in changing Australian society, presented by the then-Executive Director of the ACF, Philip Toyne (La Trobe University, 7 November, 1990); briefing papers for the Eritrean Relief Association in Sudan; evidence to the Joint Committee on Foreign Affairs, Defence and Trade's hearings on Australia's relationship with Indonesia (Melbourne, 4 February, 1992, Official Hansard Report, Commonwealth of Australia, Canberra, p.54); a speech,  East Timor: It's time to talk, presented on behalf of the Australian Council for Overseas Aid at the UN Decolonisation Hearings in New York, an activist essay, East Timor: The story so far, and a series of Ecoversity forums on East Timor; numerous dispatches for the Canadian-based Environmental News Service, for which she was an Australian correspondent; many newspaper and magazine features on issues such as the American 'invasion' of Perth (1981), the war in Eritrea, and the reburial of the remains of Native Title warrior Eddie Mabo on Murray Island; plus journal publications and book chapters. Her fiction and community cultural development projects (CCD), including her award winning Kate Kelly Project, are informed by the experiences she has accumulated through her travels. More >>
Merrill is a Professional Associate with the Centre for Creative & Cultural Research at the University of Canberra. She supports her writing habit and creative activism with consultancy work, community cultural development projects, and occasional university work.
Her ABN is 50 187 552 579.
Photo of Merrill by Chris Webb of Chris Webb Photography, UK. Thank you Chris.
Last updated 31 March 2020.
Permalink: https://merrillfindlay.com/about