The most astonished person in the Forbes Town Hall on the night the 2009 Forbes Heritage Medal was announced was its winner, The Kate Kelly Project's Merrill Findlay … especially since the award was for an unsolicited study of the historic Quong Lee's Store which Councillors had recently deemed to be of so little heritage value that it was worthy only of demolition to make way for a few extra car parks in a yet-to-be-built shopping mall!
Read the submission to Council, Saving Quong Lee's: an alternative to demolition, for which Merrill won the Forbes Heritage Medal >>
See more on the Campaign to save Quong Lee's >>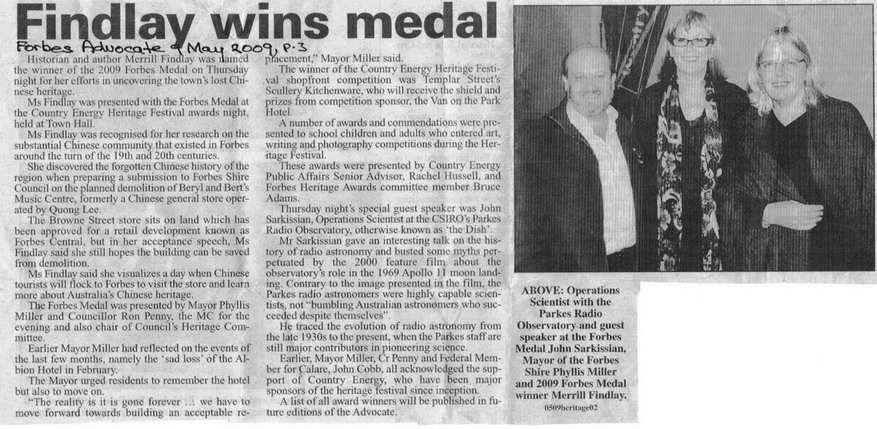 ___________________________________________________________________________________________
More on The Kate Kelly Project (KKP)
The KK Song Cycle >>
The KK  Walk >>
On The Death Of Kate Kelly >>
Themes linking Kate Kelly's time with our own >>
Kate Kelly On The Lachlan 1886-1898 >>
In Memory Of Kate Kelly 1863-1898 >>
Project partners and acknowledgements >>
Quong Lee's Store >>
Project media
2008 >>
2009 >>
2010 >>
2011 >>
More on Merrill's project work >>
Page history: uploaded to this new site December 2010. Last revised 14 August 2015.
Permalink: https://merrillfindlay.com/?page_id=965