'MY HOMELESS WANDERING PEOPLE'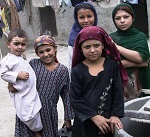 3 September 2021: Soon after the US military left Kabul last week, I received a call from my young friend Qais in Germany. Qais calls me 'Mum'. We talk often. But this time was different. He was terrified for family members still in Afghanistan, including his real mother and siblings. Was there any way I could get them out of Kabul?, he asked desperately. What could I say from my safe little inland town in far-off Australia? In my powerlessness, all I can think to do now is post some of my writings and photos from my visit to the refugee camps in Pakistan in 2006 in the hope they might help readers understand what has been happening in Qais's homeland over the last 30 years. Today, I'll take you to Khurasan Refugee Camp near Peshawar to meet my young friend 'Ariana' (not her real name) and some of the refugee families she introduced me to. Please read on >>
GERTRUDE OPERA COMPANY DOES KATE KELLY
October/November 2020: Kate Kelly, the chamber opera that composer Ross James Carey and I co-created a decade ago, was given new life by Melbourne's Gertrude Opera Company in their COVID-era production for the 2020 Yarra Valley Opera Festival. Very exciting!

And now the steaming season has been extended for the entire month of November 2020. So if you missed it in October, you can still catch it! Bookings here >>
"a strong and vibrant interpretation…no weak links." – The Age / Sydney Morning Herald
"an alluring and evocative piece…cleverly bridges personal storytelling and cultural interconnectedness."
– Limelight
Read the full reviews here >>
THE KATE KELLY SONG CYCLE
Songs For Kate Highlights Merrill's Work, Forbes Advocate, 7 August 2014: "A documentary featuring Forbes writer Merrill Findlay will be distributed to schools, libraries, and universities in Australia and internationally after recently being picked up by Canberra-based company, Ronin Films," Sophie Harris writes … more >>
Songs for Kate, by writer/filmmaker Tracy Sorensen, documents the development of The Kate Kelly Song Cycle, my creative collaboration with composer Ross Carey. This contemporary chamber opera emerged from The Kate Kelly Project, one of my ongoing cultural interventions in rural Australia.
READ the libretto, LISTEN to the arias and/or BUY the full score here >>
BIG SKIES COLLABORATION: STORIES OF THE COSMOS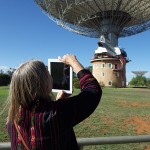 Big Skies Collaboration (BSC), the cultural intervention I co-established in 2016/17, brings together arts practitioners, astronomers, and local communities to celebrate people's relationships with the Cosmos, and catalyze new opportunities for communities in southeastern Australia's rural inland. My own BSC involvements include the Condo SkyFest, the Inland Astro-Trail (IAT) (more), the IAT Symposium, the Skywriters Project, and our first book, Dark Sky Dreamings: An Inland Skywriters Anthology (IP, Nov. 2019). Follow our BSC blog here >>
DARK SKY DREAMINGS: AN INLAND SKYWRITERS ANTHOLOGY

2020: Dark Sky Dreamings: an Inland Skywriters Anthology, edited by Merrill Findlay with Suzie Gibson and Val Clarke, is the first book to emerge from our Big Skies Collaboration. It was published by Interactive Press in Brisbane in November 2019 and launched in Tamworth and in other Inland towns. The book features prose and poetry by 50 writers from across Australia.
PREVIEW Dark Sky Dreamings here >>
BUY it in hardcopy or 3 e-book formats from your favourite bookshop, or from the publisher here >>
SCARLET DOES HONEYSUCKLE CREEK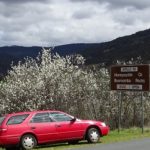 Meet Scarlet O'Barbara my research mobile in my Big Skies Collaboration blog post about the former NASA tracking station at Honeysuckle Creek in the Australian Capital Territory. These posts, part of our Big Skies Collaboration, are helping me think through my new book project, Skycountry: a cosmography.
More here >>
HOW LONG MUST I WAIT? REFUGEES BEING WAREHOUSED IN INDONESIA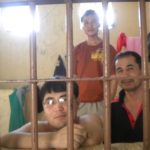 My multimedia essay, How Long Must I Wait?, about the 14,000 refugees and asylum seekers now being warehoused in Indonesia, was published by Griffith Review. In it, I introduce 'Ustad', a young Hazara father, husband and son from Quetta, in Pakistan's conflict-ridden Balochistan Province, and two teenage cousins, 'Karim' and 'Ali', from Afghanistan's Ghazni Province. Their stories are compelling. Read the essay here or here >>
GEOGRAPHY OF THE SENSES GIG @ DERBYSHIRE ECOCENTRE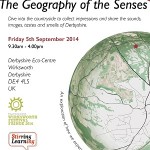 I shared my sensory experiences of inland rural Australia at Geography Of The Senses, a Wirksworth Festival Fringe event at the Derbyshire Eco-Centre.
I visited the Eco-Centre remotely via Skype and video (see above). My fellow participants lived more locally, however, so could participate in this gig in the flesh …  more >>
STORYING SUSTAINABILITY: THE POWER OF NARRATIVE

My presentation to the joint UNESCO-University of Canberra international Sustainable Landscape Futures conference in Canberra,10-11 July 2014.
UNESCO's Director General recently insisted that 'Culture must be integrated in the post 2015 agenda, as a driver and as an enabler of sustainable development' ….  more >>
CONSERVING LOCAL CHINESE HERITAGE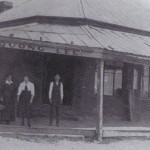 From the archives: my 2009 submission to Forbes Shire Council to save the historic Quong Lee's Store from demolition after a Sydney developer gained approval to demolish it for a few extra car parking spaces for a proposed shopping mall. This submission urges Council to conserve Quong Lee's as the last architectural link with the shire's very substantial Chinese heritage. Much to my surprise I won the 2009 Forbes Heritage Award for this intervention. More >> 
RIVER STORIES: CREATIVE INTERVENTIONS IN INLAND NSW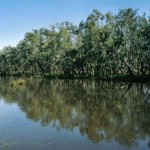 River Stories is my ongoing project to explore the pasts, presents, and possible futures of the Kalari-Lachlan River system in inland New South Wales. My river stories include (so far) articles in international peer-reviewed journals, essays, book chapters, an arts festival, a chamber opera, a blog, and now the Big Skies Collaboration: celebrating millennia of astronomies on the inland plains. More >>
SO WHAT IS IT ABOUT CANOWINDRA?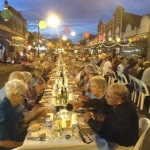 15 April, 2015: Why is Canowindra, a townlet of fewer than 2,000 people in central New South Wales, such a hub of rural creativity, innovation and excellence when so many larger inland towns still struggle to produce anything of regional, national or international significance?  I ponder – and try to answer – this question in a post on my Rural Arts Festivals blog. More >>
WOMEN WEAVING TOGETHER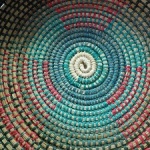 Fibre artists from the Wiradjuri Arts Group in Condobolin and the Orange Fibre Arts Group invited me to open their inspiring group exhibition in Forbes in September 2014. Such a privilege. Together these women are reviving ancient Wiradjuri traditions and weaving new and enlightened stories about hope and reconciliation.
More >>
THE TRANSFORMATIVE POWER OF RURAL ARTS FESTIVALS
Albury-Wodonga, 15 October 2014: a paper at the 2014 Australian Regional Development Conference about the power of arts festivals to effect change in small rural communities. I case-studied the Kalari-Lachlan River Arts Festival, in the context of the Australia Council for the Arts' 2014 report, Arts In Daily Life,  and UN Resolution 68/223 concerning the role of culture and the creative industries in enabling and driving sustainable development. Read it here >>
IMPROBABLE BEGINNINGS: MY CHAOS THEORY OF RURAL ARTS FESTIVALS
March 2014 post on my Rural Arts Festival blog
… So call this my Chaos Theory of Rural Arts Festivals, their sensitive dependence on initial improbabilities, crazy ideas, and unreasonable dreams and desires; and on months, years even, of unpaid (and generally unacknowledged)  intellectual, emotional and physical labour. The most critical initial condition for any rural arts festival, however, is … more >>
"OUTSTANDING CONTRIBUTION" AWARD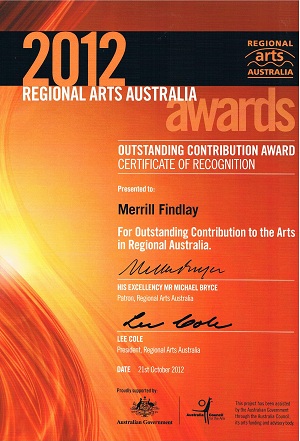 In 2012 Merrill was presented with an "Outstanding Contribution" Award at the national Regional Arts Australia Conference in Goolwa, South Australia, in recognition of her work to establish the Kalari-Lachlan River Arts Festival.
"As a writer, I believe passionately in the power of narratives to effect change, and in the responsibility of arts workers to be agents of change," Findlay said.
more >>   more >>   And more >>
REPUBLIC OF WOMEN: A NOVEL
My first novel Republic of Women, a literary fiction set in Melbourne, was published by University of Queensland Press in 1999.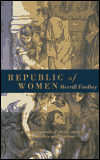 From the back cover: In this novel of striking intellectual subtlety and authority, Merrill Findlay probes questions of sexual identity in a voice that is radical, humane, angry, tender, and always true to the complex reality of her characters. With the assured craftsmanship of an already accomplished novelist, she brings past and present into relations that deepen her characters and their preoccupations and the reader's pleasure in her evocation of contemporary St Kilda.  more >>
Reviews of Republic of Women >>
UNDERSTANDING PLACE THROUGH NARRATIVE
Book chapter first published in Frank Vanclay et al (eds), 2008, Making Sense of Place: exploring concepts and expressions of place through different senses and lenses, pp. 13-22, National Museum of Australia. [A review of this publication by George Main in Australian Humanities Review 46, May 2009 >> ]
No continent can be invaded, no massacre committed, no abuse perpetrated, no people subjugated, vilified or discriminated against, no land degraded, no wetlands drained, no climate changed, no species made extinct and no creeks or rivers despoiled – unless stories make it so. The reverse is also true … more >>
GENEALOGIES OF A THREATENED RIVER SYSTEM 
First published in the British international peer-reviewed journal Futures, 39: 2-3, pp. 306-323, a special double issue on Australian futures I guest-edited in 2006. The Kalari-Lachlan River Arts Festival now celebrates this river and its people.
I write this in a small town in central New South Wales on a river that is slowly meandering towards its terminal wetland, the Great Cumbang Swamp, in the state's semi-arid Riverina. For most of its 1500 kilometre journey, this river flows through Wiradjuri country to trace the presence of Baiamai, the father of creation, Wawi the rainbow snake, and other ancestral beings who shaped and 'animated' these inland plains. Wiradjuri descendants know the river as Galiyarr, or Kalari, and two, perhaps three thousand generations of their ancestors are buried in its alluvium.  >>
Download the pdf version, as published >>
ROMANCING THE GRINDSTONE ON GUNNINGBLAND CREEK
First published in Futures, 37:8, October 2005, pp. 893-903.
The days are lengthening, crops are ripening, and the air is sweet with Spring as I write. For the first time in years of drought, there are pools of muddy water in Gunningbland Creek, the ephemeral stream that meanders across our farm towards its river, the Lachlan, in south-eastern Australia; and a brood of grey teal ducklings is dabbling in the sparse rushes and nardoo, a native aquatic fern, now miraculously regenerating after the recent rain.  more >>
BEYOND AUSTRALIA'S GREAT DIVIDES
Book chapter first published in The Hitchers of Oz: Hitchhiking Stories and Observations from Australasia and Beyond, edited by Tom and Simon Sykes, Interactive Press, 2009, pp. 57-70.
Australia is divided east from west, the coast from the rest, by a cordillera of low mountains, uplands and dissected plateaus stretching from Cape York Peninsula in Queensland's far north to the island state of Tasmania in the Great Southern Ocean. On one side of this watershed is the densely populated Pacific seaboard, on the other the sparsely populated inland. And the twain need never meet. Indeed, the coastal plain and the remainder of the continent might as well be completely different countries. more >>
EDDIE MABO COMES HOME
First published in Good Weekend (Fairfax), 1 June 1996.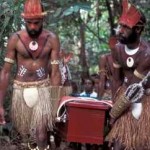 It's hot on the rim of this extinct volcano at the far northern end of the Great Barrier Reef. Bonita Mabo has been waiting in the shade of a battered fibro shed all morning. A small crowd has gathered around her: children, grandchildren, siblings, in-laws, cousins, aunts, uncles, members of the Meriam Council of Elders, young warriors from her late husband's Piadram clan, a documentary film crew, plus this writer from Melbourne. And there it is, the light aircraft descending from the sky to bring the exhumed remains of Edward Koiki Mabo home to Mer, or Murray Island. more >>
THE TIMELESS BOND BETWEEN BIRDS & PEOPLE
First published in The Age Weekend Extra, Melbourne, Saturday 22 August 1998.
As the days grow shorter in the far-off waters of the North Pacific, hundreds of thousands of hungry, dun-coloured seabirds, millions even, begin their long annual flight south to Big Dog Island from their Arctic feeding grounds to mate, lay their eggs and rear their young, the next generation of short-tailed shearwaters, or mutton birds. more >>
BALOCHISTAN: THE INVISIBLE WAR
First published in Arena Magazine no. 91, Oct-Nov 2007, pp. 36-38.
Even my Pakistani friends warned me about Balochistan, and not without reason. In the days immediately before I was to catch the train to Quetta, the provincial capital near Pakistan's borders with Afghanistan and Iran, 'terrorists' detonated a bomb in a shopping plaza in the city's military cantonment and fired rockets at two of the regular express trains below the Bolan Pass.  more >>
ERITREA, JUST A QUESTION OF TIME
First published in The Canberra Times, 7 June, 1989.
In a stone room dug into the side of a narrow rocky gorge we bent towards a tiny transistor radio. It was news time and we were listening to the Voice of the Masses, the frequency of the Eritrean People's Liberation Front, transmitting from deep within Eritrea's "liberated zone". more >>
GREENING THE FAMILY FARM
First published in Habitat Australia (Australian Conservation Foundation) way back in February 1988.
Country town. Interstate bus. They're all there to meet me. It's springtime and the roadsides are splashed with purple Patterson's curse and the exotic yellow daisies we call pee-the-beds. The crops are young and green, just starting to head, and the trees silhouetted against the setting sun as we drive home — well, I'm afraid there aren't many of them left these days, except along the road reserves. European agricultural practices haven't been good for trees in this country. Nor for the land itself. >>
CULTURAL EXCHANGE BETWEEN INLAND NSW & DERBYSHIRE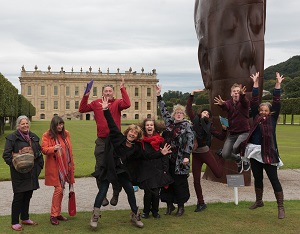 A dozen of we Creatives from Central Western New South Wales spent most of September 2013 in Wirksworth, Derbyshire, as part of The Pavilion Project, a visionary international cultural exchange facilitated through Arts OutWest, Derbyshire Council, and the Wirksworth Arts Festival. Check out Maryanne Jacques' article about our sojourn, Rural To Rural: International Arts Links, in The Western Advocate, 6 October 2013 >>  And/or Jason Thomas's Swapping Festival Ideas, in The Forbes Advocate, 12 September 2013  >>. And/or my own posts from Wirksworth on Rural Arts Festivals >>
Credit: Banner photo of Merrill Findlay is by UK photographer Chris Webb, September 2013.  Thank you, Chris.
Last updated 3 September 2021. Permalink: https://merrillfindlay.com
Copyright Merrill Findlay 2013-2020.