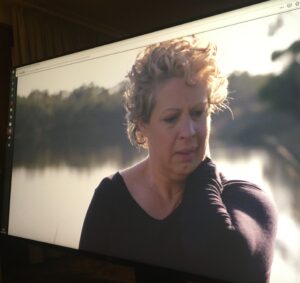 Melbourne's Gertrude Opera Company breathed new life into the Kate Kelly chamber opera a decade after its first perfomance with a beautiful new COVID-era production for the 2020 Yarra Valley Contemporary Opera Festival.
And now the stream season has been extended to the entire month of November 2020.  Bookings here >>
Some excellent reviews too, as you can see below.
Full credits plus libretto (pdf document) GO Yarra Valley Festival – Kate Kelly – HANDBILL
Media release (Arts OutWest) >>
Modern Opera moves from the Valley to digital frontier by Nick Miller, The Age, first published 31 August, updated
Gertrude Opera presents Australia's first-ever online Opera Festival, Arts Review, 1 September 2020 >>
A reinterpretation of the life of Ned's sister, Kate Kelly will be brought to life by three singers, an accordion, violin, cello and clarinet; a logistical feat considering the three singers are based in Tasmania, Sydney and Melbourne. Full story >>

RRR radio Interview by Richard Watts (3RRR FM) with Gertrude Opera's CEO and Artistic Director, Linda Thompson, recorded 17th Sept, 2020  Full interview >>
first published August 31, 2020Online festival proves you can make great opera in lockdown,  review in The Age and Sydney Morning Herald by Barney Zwartz, October 25, 2020
… Kate Kelly, the story of Ned Kelly's doomed sister, powerfully evokes the rough and raw life of the poor in 19th-century rural Australia, thanks to an excellent text by Merrill Findlay, ably set by composer Ross James Carey. …
The result was an impressive human drama that was all the more effective for being understated. Full review in The Age >>
Kate Kelly (Yarra Valley Opera Festival), Paul Selar, Limelight Magazine, October 26, 2020
…  an alluring and evocative piece blending history, myth and circumstance; a work that cleverly bridges personal storytelling and cultural interconnectedness.
Findlay's story is embroidered with sensitivity on a deceptively rich and sprawling canvas with its three identities contemplating events from a perspective seemingly beyond its time. Carey's music – written for violin, cello, clarinet and accordion –responds marvellously, both in expressing context and poignancy without employing gimmick. Full review >>
Kate Kelly, review by Patricia Di Risio, Stage Whisphers magazine, October 2020
This opera is a contemplative and melancholy exploration of Kate Kelly (Emily Burke, soprano) and her tumultuous relationship with the land, men and the authorities. The show opens with 'Bricky' Foster (Andrew Moran, baritone) whose deep tones effectively capture the hypermasculinity of his character and the regrettable actions that it cultivates. There is both a bitterness and a charm to this character and this reveals an interesting complexity to his persona. Full review >>
Kate Kelly chamber opera to be performed at major Victorian festival, ABC Central West, Brooke Daniels interviews Merrill Findlay, 8 October 2020 >> 
Kate Kelly, the chamber opera, selected for national festival, Forbes Advocate, 24 September 2020 >>
Credits
Libretto – Merrill Findlay
Music – Ross James Carey
Kate Kelly – Emily Burke, soprano
'Bricky' Foster – Andrew Moran, baritone
Quong Lee – Michael Lapiña, tenor
Director – Linda Thompson
Music Director – Patrick Burns
Editor – Greta Nash
Sound Design – Fergus Nash
Violin – Thibauld Pavlovic-Hobba (Flinders Quartet)
Cello – Zoe Knighton (Flinders Quartet)
Clarinet – Brendan Toohey
Accordion* – Patrick Burns
Ensemble
Daniel Felton
Tash Atkins
Lana Lowry
Cinematographer (Tasmania) – Anna Cadden
Cinematographer (Victoria) – Tiana Koutsis
Cinematographer (NSW) – Ehran Edwards
Production Management – Matthew Nash
Kate Kelly premiered as a song cycle in a concert performance at the inaugural Kalari-Lachlan River Arts Festival at Forbes, NSW in 2011. See Forbes plays host to world premiere of Kate Kelly Song Cycle, ABC, 7 September 2011.
The Forbes premiere would not have been possible without generous  donations from Melbourne philanthropist Julie Kantor (Annamila P/L), Barbara Holloway (Canberra) and Robyn Prior (Melbourne) through the Australia Business Arts Foundation (now Creative Partnerships Australia). Plus lots of in-kind support from participants. I am eternally grateful for this support. Thank you.
Page created 27 October 2020. Last updated 2 November 2020.
Permalink: https://merrillfindlay.com/ccd-projects/kkp-the-kate-kelly-project/gertrude-opera-does-kate-kelly