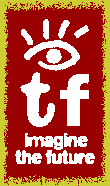 Archived by the National Library of Australia's Pandora Project, Australia's web archive. Links below are to the archived web site.
I established Imagine The Future Inc in the inner Melbourne suburb of Fitzroy in the late 1980s/early 1990s.
Our ITF projects included
–  the world's first ecoversity, which hosted many seasons of sustainability forums in the 1990s [ More >> ]
–   East Timor: Towards Peace, Prosperity and Self-determination, a series of events exploring the pasts, present and possible futures of Timor Leste, with Melbourne's East Timorese refugee community and support groups
– a Youth Ambassador Training Program and a speaking tour to North American by the youth ambassadors, co-hosted by Timorese and North American support groups
–  the community e-journal Redreaming the plains, which incorporated the Homelands Project about the lives of refugees and asylum seekers, and Habitus: Sense of Place, a collection of contributed stories about living on Victoria's basalt plain and other plains around the world
– Painting the Future Real with its interactive possum skin cloak
– Re-imagining your Neighbourhood with communities in Western Melbourne, including Sunshine
ITF has now been de-incorporated, but the ecoversity fittings and ITF documentation 'lives on' in the archives of the State Library of Victoria, the Sustainability Collection of  Museum Victoria, and at The Patch Primary School in the Dandenong Mountains. And there are now many ecoversities around the world, including one at Bradford University in Yorkshire, where I was a guest in 2009.
More on Merrill's project work >>
Page created 26 January 2011. Links to old web site deleted and links to archived site added 7 Nov. 2015.
Permalink: https://merrillfindlay.com/ccd-projects/imagine-the-future-the-ecoversity