The Transformative Power of a Rural Arts Festival, a peer reviewed paper I presented at the 2014 Australian National Regional Development Conference in Albury >>
Vince O'Donnell's Arts Alive podcast recorded live, by phone, 27 October, 2013, from the second Kalari-Lachlan River Arts Festival: River Arts Festival Special >>
6 December 2013: After the success of River Arts 2013 it's time for me to resign from the Festival I founded, and to hand it over to the community so it will grow and thrive as a truly community-led celebration of country creativity. Read my statement to the local press on my withdrawal >>
MORE at my Rural Arts Festivals blog  >>
SPECTACULAR FESTIVAL the Forbes Advocate's front page shouted. "The lanterns have died out, musicians have packed up and gone home, and everyone is recovering after a huge weekend at the 2013 Kalari-Lachlan River Arts Festival," Sophie Harris wrote in the Forbes Advocate, 29 October, 2013. "This year's festival was an astounding success and impressed all who attended the celebration of art and culture in our region …" More >>
And visit The Advocate's online "FESTIVAL MEGA GALLERY"…  more >>
September 2013: See my Rural Arts Festivals blog exploring the rural arts festivals I'm currently associated with >>
October 2013: DRUMMING UP COUNTRY: "A chorus of drummers, a building sound of percussion instruments, coloured paper lanterns lighting up the night and hundreds of people gathered on the banks of Lake Forbes. This will be the climax of the 2013 biennial Kalari Lachlan River Arts Festival in Forbes on Saturday October 26," writes Maryanne Jacques for Regional Arts NSW.
"Two years in the making, this enormous local arts project was always designed as something more than 'just another rural festival'." More >>
****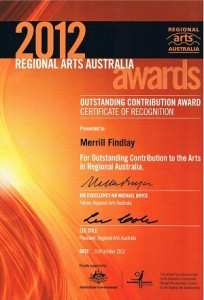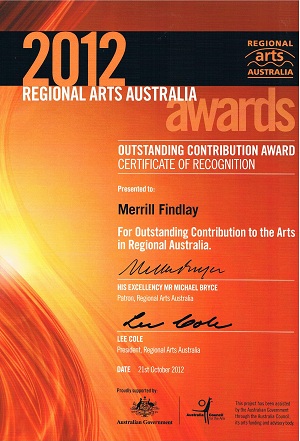 OUTSTANDING CONTRIBUTION AWARD
Merrill was presented with the Regional Arts Australia's 'Outstanding Contribution Award' at the 2012 national conference in Goolwa, South Australia, for establishing the Kalari-Lachlan River Arts Festival in Forbes, NSW, one of the many outcomes of her Kate Kelly Project. Members of the Forbes community nominated her for this prestigious award.
"As a writer, I believe passionately in the power of narratives to effect change, and in the responsibility of arts workers to be agents of change," Findlay said, in response. More >>  And more >>
++++
REMEMBERING OUR FIRST RIVER ARTS FESTIVAL, SEPTEMBER 2011
A community celebration of country creativity and resilience,
and the opening event for the 2011 NSW State Landcare & Catchment Management Forum
6 June 2011: Kalari-Lachlan River Arts Festival now has its own web site >>
CHECK OUT the Outstanding Contribution award for this Festival here >>
READ my report on the first River Arts Festival in 2011 here >>
VISIT the archived web pages from the first Festival here >>
The inaugural Kalari-Lachlan River Arts Festival will be held on Sunday 4 September 2011 beside the Forbes Lagoon, Central Western NSW, as a community celebration of country creativity and resilience after a decade of drought.
The Festival will be directed by Stefo Nantsou, resident director with the Sydney Theatre Company. It will be the opening event for the NSW Landcare and Catchment Management Forum, and feature the premiere performance of The Kate Kelly Song Cycle by composer Ross Carey and Forbes-based writer Merrill Findlay. By a lucky accident, the Festival also coincides with the 150th anniversary of the town of Forbes itself.
THE COUNTDOWN HAS BEGUN
The air will be filled with music and hundreds of people will be enjoying the arts, in all their diversity, in the idyllic setting of the lagoon foreshore, or Lake Forbes, as many locals prefer to call it. But, as Director Stefo Nantsou warned Festival organisers on his recent visit to Forbes, "some hard decisions have to be made and some heavy lifting needs to be done, or we'll all run out of time."
Some of these "hard decisions" will be made on Friday 13 May, at a community meeting to be held from 5.30 pm at the Forbes Sports & Recreation Club, to discuss the festival program. 'Ministeries' will be allocated at this meeting to cover specific responsibilities, or portfolios: a Minister of Music, a Minister of Visual Arts, a Minister for Stalls and Markets, a Minister of School Participation, a Minister of Children's Activities, and a Minister of Stage Management, for example. We may also nominate a Minister of Fund Raising to launch and manage the Festival's innovative tax deductible community sponsorship scheme. Everyone interested in the Kalari-Lachlan River Arts Festival is invited to attend this meeting.
Festival Director, Stefo Nanstou, of Sydney Theatre Company and Zeal Theatre, will be working with the region's young people through the schools, including Forbes High School, Red Bend Catholic College and Lachlan House With No Steps, to make the Festival "something special and amazing and unique." Sydney Theatre Company's partial sponsorship of his involvement in the River Arts Festival means that he will be able to visit the Central West regularly over the next four months and spend the entire final week before the Festival in Forbes to rehearse performances and oversee the setting up of the Festival venues.
After his most recent visit to Forbes, Mr Nantsou said he found Mezzanine Style, the coffee house and gallery in the historic Forbes Arcade on Rankin Street, especially inspiring. "This place is tailor-made for a cabaret venue," he commented. Mezzanine is now likely to host a colourful Saturday night Festival opening on 3 September, and possibly "one hell of a jam session", as Mr Nantsou called it, at the completion of the Festival on the Sunday evening.
"I reckon that from midday on the Sunday, everything will be happening at the lake-side though," he said. "People will know that they can come on down to the foreshore to enjoy a full Sunday arvo of Festival activities and then, from sunset, a visually stunning Parade of Lanterns, followed by the world premiere of the Kate Kelly Song Cycle."
He envisages stalls, exhibits, face painting, food vendors, and buskers all along Buck Bentick Way, small stages and "alleys" beneath the gum trees in Frogs Hollow, along with a large performance stage for live bands, chamber orchestras, special guest performers, hip-hop and bush poetry recitations, choral recitals, dancing, and the Song Cycle premiere.
"It is important to keep all the action on the lagoon foreshore as far as possible on the Sunday to retain the buzz and excitement of the crowd," he advised.
Sports lovers will also be involved in the River Arts Festival. The Sports & Rec. Club is hosting a Beyond Blue bowls tournament on the Sunday morning, which is expected to attract bowlers from the length and breadth of the Lachlan Valley, and another local organisation is expected to host Dragon Boat races to introduce this exciting sport to Forbes. Diverse activities will be included on the Festival program, including the Parkes Musical and Dramatic Society's production of Wizard of Oz which will open at the Parkes Little Theatre on 3 September, and a landscape exhibition at the Cowra Regional Art Gallery scheduled for September. All those wishing to add their own activities to the Festival Program are invited to Friday's meeting, or to drop in to the Sports & Recreation Club to discuss their ideas with Lyn Ford, one of the Festival conveners.
CONSULTATIVE MEETINGS
Two community consultations were held to involve community groups in planning the Festival.  The first, a workshop and barbecue lunch, was facilitated by Festival Director Stefo Nantsou at the Forbes Sports and Recreation Club on 20 December 2010. It was co-hosted by the Kate Kelly Project, Forbes Urban Landcare, Parkes & Districts Landcare, Central West Arts Group, and the Club.  The second workshop was our Brunch On The Bridge on 19 March, 2011. Both events were extraordinarily successful.
Read an interview with Stefo in the Forbes Advocate >>
Read Stefo's concept plan for the Festival >>
The Barbecue lunch:  Some thirty representative from a wide range of community associations and other organisations, including Forbes Shire Council, Mitchell Conservatorium of Music, Central West Arts Group, Forbes Arts Society, Lachlan Catchment Management Authority, Wiradjuri cultural groups, the landcare groups, Greater Western Area Health Service, Forbes Women's Refuge, local schools, CentreCare Wilcannia-Forbes, Forbes Shire Choir, Forbes Seniors Choir, Rotary, Forbes Writers Group, and Forbes Historical Society, for example, participated in the discussion and enthusiastically contributed their ideas for the Festival program.
One of the most inclusive ideas proposed was a Lantern Parade to honour the many Chinese migrants who settled or sojourned in and around Forbes in the late C19th.  Local artist, business woman and member of the Central West Arts Group, Ro Burns, displayed some of her own hand-made lanterns at the workshop, and has undertaken to organise a series of lantern-making classes in the months leading up to the festival to ensure that as many people  as possible can be involved in the lantern parade. Ro is especially inspired by the work of Jyllie Jackson, director of Lismore's lantern festival [more], for example, and by the giant lanterns and ' fire events' which regularly illuminate the Woodford Folk Festival.
Another exciting idea, as proposed by Larry Towney, the Aboriginal Community Support Officer, Sustainable Ecosystems and Advisory Services, Lachlan Catchment Management Authority, is a very dramatic Welcome To Country, to involve music, singing in Wiradjuri language and dance, plus rituals to honour the ancestors.
The barbecue was sponsored by Forbes Shire Council, which was represented by Mayor Phyllis Miller, Councillor Chris Roylances and senior staff.
Brunch On The Bridge: our second community planning workshop on the historic Bates Bridge on Saturday morning, 19 March 2011, was attended by more than 60 people from Forbes, Parkes, Orange, Dubbo, Narromine and other centres.  It was facilitated by rural arts and tourism expert, Steve Baldwin, from Coonamble, and sponsored by Forbes Shire Council and local businesses.
"The level of support for the forthcoming festival caught me by surprise," Mr Baldwin said after the workshop.  More >>
FUNDING
Applications for grants and sponsorship totalling some $90,000 have been made through The Kate Kelly Project for the River Arts Festival and Kate Kelly Song Cycle premiere.  These submissions include more than twenty letters of support, most them from local organisations eager to participate in the region's first-ever arts festival. My thanks to all those who took the time to so positively affirm their support for this event. mf
Content created by Merrill Findlay, 25 January, 2011. Last updated 14 January 2014. Permalink: https://merrillfindlay.com/?page_id=1852