Merrill Findlay's critically acclaimed novel, Republic of Women (UQP 1999), spans several thousand years and several continents. Its interweaving narratives explore the imagined lives of over fifty fictional and "real-life" characters.
More on Republic of Women >>
Characters in (sort of) alphbetical order
Abelard: Lillian's neutered fictional Labrador dog named for the Medieval philosopher, logician, and theologian Peter Abelard (1079-1142), the lover and covert husband of the scholar, Heloise. Abelard retired to a monastery after he was castrated by thugs employed by Heloise's uncle, the Canon of Paris.
Agamemnon: The mythic warlord responsible for the sacking of Troy, husband of the last matriarchal Queen of Mycenae, Clytemnestra, and father of Iphigeneia, whom he sacrificed for a wind to fill the sails of his fleet. His heroics are immortalised in The Illiad attributed to Homer.
Alcibiades: An Athenian general who was central to the conflict between Sparta and Athens which is the subject of the war game Heinrich and his fictional mates are playing. Alcibiades' extraordinary career is documented in The Peloponnesian War by Thucydides.
Alfredo (Germont): The lover of Violetta Valery, the central character in Verdi's opera, La Traviata.
Alphonsine (Plessis): The name Marie Duplessis was given at birth.
Anonymous Alexie, Anonymous Carlos, Anonymous Pete, and Anonymous John: Heinrich's fictional mates and fellow war-gamers.
Aspatia of Miletos:  A scholar, priestess, mother and resident alien of Athens who taught both Socrates and Plato and wrote speeches for her lover Pericles.
Ceberano, Kate: An Australian singer, whose recording of 'Change' by Jolley/Jolley/Harris is referred to in Republic of Women. MCA Music 1998.
Chiesley, Rachel: The Lady Grange of Edinburgh who was kidnapped in 1732 and imprisoned on St Kilda island in the North Atlantic, by the Jacobites. She became known as the Lady of St Kilda. St Kilda, Australia, was named after a C19th yacht bearing that name.
Cleon: A wealthy citizen of fifth century Athens, whose speech to the demos is documented in The Peloponnesian War by Thucydides.
Clytemnestra: The last matriarchal queen of Mycenae, the mother of Iphigeneia and Orestes (who murdered her), and the wife of the warlord Agamemnon.
Cruz, Apolinario (Pol): An Australian visual artist born in the Filippines, but forced to leave during the Marcos regime. One of his paintings, The Initiation, hangs in the house of the fictional character Lillian, and is central to one of Marie's contemplations about masculinity.
Daphne Downstairs: A fictional seventy-three year old woman who lives in the flat immediately below Marie, in Fitzroy Street, St Kilda. Their block of flats could be any of the many walk-ups lining this (in)famous St Kilda street.
Denis: A fictional St Kilda resident, Marie's friend, Heinrich's lover, and a former sex worker and intravenous drug user.
Demeter: Meter is Greek for 'mother', and De is Delta, the sign of birth, death and erotic paradise. Demeter therefore represents the trinity of life, death and rebirth. Many of the rituals her initiates practiced in ancient Greece were reportedly sexually explicit and involved the eating of flesh and the drinking of blood. The central contemporary characters in Republic of women, Marie, Elle, Lillian, Sophie and even Denis can be interpreted as aspects of Demeter's complex trinity.
de Stackelberg, Baron: Courtesan Marie Duplessis' eldery patron.
de Perrigaux, Comte Edouard: A French nobleman and Marie Duplessis' lover, whom she married in a Kensington Registry office on 21 February 1846. The couple seemed never to have formally lived together, and even after her marriage, Duplessis maintained her own business and her independence.
de Varville, Baron: The rival of Armand Duval and one of Marguerite Gautier's lovers in Dumas'La Dame aux Camélias.
Diodotus: A citizen of fifth century Athens, whose speech to the demos is documented in The Peloponnesian War by Thucydides.
Dumas, Alexandre fils: The author of La Dame aux Camélias, who was born in Paris in 1824, the illegitimate son of the already-established writer Alexandre Dumas pere. The young Dumas claimed he had an affair with Marie Duplessis in 1844 and based his first novel on her life. As he grew older, he became more austere, conservative, anti-feminist and messianic. He died in 1895.
Dumas, Alexandre pere: The author of The Count of Montechristo, The Three Musketeers, and Memoirs of Garibaldi, whose son Alexandre, wrote La Dame aux Camélias.
Duval, Armand: The lover of Marguerite Gautier in Dumas' fiction, La Dame aux Camélias.
Elle: A fictional twenty-something resident of St Kilda, post-graduate student, single mother, rock musician playing in a women's band called Lip Service, and close friend of Marie and Lillian. She was born in Turin where her Sicilian parents worked at the Fiat factory, but she spent most of her youth in Ballarat, Victoria, where her fictional parents have a fruit and vegetable store. She now lives with her fictional daughter, Sophie, in a converted stable behind St Kilda's Esplanade Hotel.
Flora: A character in Verdi's opera, La Traviata, and the friend of the heroine, Violetta Valery.
Garibaldi, Anita, nee Anna Marie Ribeira da Silva de Jesus: The daughter of Maria Antonia and Bento Ribeiro da Silva de Jesus, born in a village in Brazil in about 1821. Giuseppe Garibaldi fell in love with her while he was in exile in South America and she accompanied him back to Italy.
Garibaldi, Giuseppe: The lover of Anita, and an Italian freedom fighter and hero, who played a significant role in the unification of Italia.
Gaston, Vicomte de Letorieres: The character in La Traviata who introduces Alfredo Germond to the heroine, Violetta Valery. Alfredo becomes her lover in the opera.
Gautier, Marguerite; The central character in Dumas' first novel La dame aux camélias, based on the real-life sex worker Marie Duplessis. Violetta Valery, the central character of Verdi's opera La Traviata, is based on Dumas' fictional Marguerite. In Republic of Women Marie Duplessis, Violetta and Marguerite each have their own interlinked narratives.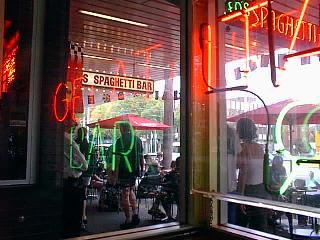 Haddad brothers, George, Michael and Tony: Proprietors of Leo's Spaghetti Bar in Fitzroy Street, St Kilda, one of Melbourne's most famous cultural institutions, where much of Republic of Women was written.
The view from the author's favourite table at Leo's Spaghetti Bar, Fitzroy Street, St Kilda, Australia. Much of Republic of Women was written at this table. Photo by Merrill Findlay, 1999.
Heinrich: Marie's fictional neighbour and Denis' fictional lover, who works as an accountant and plays war games in his spare time.
Iphigeneia: The daughter of Clytemnestra and Agamemnon. In Greek mythology she was sacrificed to Artemis by her father and snatched from the flames by the goddess to become the high priestess of Artemis's temple in the Taurus mountains.
Lilith: The Great Mother of Sumero-Babylonian mythology who refused to 'lie down' for the biblical Adam when he insisted on the male-dominant missionary position. In the Bible Lilith is replaced by the more docile Eve, whom the Hebrews' patriarchal deity, Yaweh, created as Adam's second wife. Marie and Elle affectionately call Lillian Lilith.
Lillian: A fictional retired professor, close friend of Marie and Elle, surrogate grandmother to Elle's daughter Sophie, and an acclaimed author of scholarly feminist texts. She is currently writing a ficto-criticism called The Death and Resurrection of Hypatia. Marie and Elle affectionately call her Lilith, in honour of the Sumero-Babylonian Great Mother. Lillian's lover, Sokrates, calls her Lily after the flower that represents the goddess' genitals — although we can't be sure that Sokrates is familiar with this interpretation of the name 'Lily'!
Louis Philippe, Duc d'Orleans (also known as Tip or Tippon): The exiled grandson of the last king of France and pretender to his throne, and Dame Nellie Melba's lover until both her estranged husband and the duke's father both intervened to end their relationship. Louis Philippe later married Archduchess Maria Dorothea of Hungary and made a reputation as an explorer and adventurer, especially in Africa and the Arctic. He apparently maintained contact with Nellie Melba throughout his life, and died in Sicily.
Marie: A fictional twenty-something resident of Fitzroy Street, St Kilda, born and raised in Ballarat, a regional city in Victoria, Australia. She trained as an architect and is now tutoring in that discipline at a Melbourne tertiary institution while she develops her expertise as a 'green' designer. She also plays the cello. Marie's relationships are central to the interweaving narratives of the novel. The contemporary female characters, Marie, Elle, Sophie and Lillian, can be considered aspects of the complex virgin/ mother/crone trinities of some of the world's most ancient religions, with Denis as the sacrificial male.
Marie Duplessis (Also known as Alphonsine Plessis): A French woman and acclaimed beauty, who was born in Normandy in 1824 and died of tuberculosis in Paris in 1847. In her twenty-three years she established herself as one of the most successful sex workers in Paris. In 1846 she married her lover, Comte Edouard de Perrigaux, and added the title La Comtesse to her name. She is buried in Cimetiere Montmartre. Alexandre Dumas fils claims he had an affair with her and later wrote a fictionalised account that was published in 1848 as La Dame aux Camélias. Verdi's opera, La Traviata, is based on Dumas' fiction.
Melba, Dame Nellie: The internationally acclaimed Australian soprano who sang the role of Violetta. She was born in Richmond, Melbourne, in 1861 where she was christened Helen Porter Mitchell. She died in Sydney in 1931 and was buried at Lilydale, Melbourne.
Olympe: A character in Dumas' fiction La Dame aux Camélias, and friend of Marguerite Gautier.
Pericles: An Athenian general and progressive politician for whom his lover, Aspatia of Miletos, wrote some very famous speeches. He was born around 493 BCE to Agariste, the niece of Cleisthenes the lawgiver, and to Xanthippus, the victor of the battle of Mycale, and was educated by the best teachers available, including the philosopher Anaxagoras. Pericles died in 429 BCE in a plague that killed one third of the Athenian population. His death left Athens without a strong leader.
Persephone: Demeter's daughter, and one aspect of the complex virgin, mother, crone trinity. In the version of her story recounted in Republic of women, Persephone is raped and abducted by her Uncle Hades and taken to the Underworld from where her mother negotiates her release.
Piave, Francesco Maria: Italian nationalist and Venetian poet who wrote the libretti of ten of Verdi's operas, including La Traviata. He died in Milan in 1876.
Plato: Athenian philosopher born around 428 BCE. Plato witnessed the complete collapse of the Athenian empire in his lifetime. Over twenty dialogues are attributed to him, including the Republic, and the Symposium, both of which are drawn on heavily in Republic of Women. Most of Plato's works feature his teacher Socrates.
Scheherezade: The central story teller in the collection of ancient Muslim fictions known, in English, as The Arabian Nights or The Thousand and One Nights. The Russian composer, Nikolay Rimsky-Korsakov named his Symphonic Suite (Opus 35, composed in 1888) for this fictional woman. In 1948 Jewish refugees, Masha Frydman and Avram Zeleznikow, celebrated New Years Eve in a nightclub in Paris named Scheherezade for Rimsky-Korsakov's suite, and ten years later called their new café in Acland Street, St Kilda, after that nightclub. St Kilda's Scheherezade has since celebrated its fortieth anniversary, which makes it, along with Leo's Spaghetti Bar in Fitzroy Street, St Kilda, one of the oldest cafes in Australia.
Socrates: The Athenian philosopher (c. 470-399 BCE) who was the central character in the writings of his most famous student, Plato.
Sokrates; A fictional classics scholar of Greek descent, who lives in Alexandria, Egypt, and is the long-term lover of Lillian.
Sophie: Elle's fictional six year old daughter and Lillian's surrogate grand-daughter, named for Sophia, the Gnostics' Great Mother, and the spirit of female Wisdom symbolised by the dove (and dolphin) of Aphrodite.
Strepponi, Giuseppina: The Italian soprano who created Abigaille in Verdi's opera Nabucco and soon after was forced to stop professional singing because of damage to her throat. She became Verdi's live-in companion in 1849, and married him ten years later. She died in Busseto in 1897.
Suggia, Guilhermina: The musical prodigy who became an internationally known cellist. She was born in the Portuguese city of Oporto in 1888, and died there in 1950. She studied with the Catalan cellist Pablo Casals, and later married him. Augustus Johns painted a startling portrait of her, a copy of which belonged to Marie's fictional grandmother. This imaginary print now hangs in Marie's fictional bedroom in St Kilda.
Sydney: The fictional man Marie has a brief liaison with, including a sexual encounter she describes as 'rape'.
Thucydides: The Athenian naval commander and author of The Peloponnesian War, who was born in Attica about 460 BCE and died, probably in Thrace, in about 401 BCE. The words 'Or so Thucydides says' are repeated throughout Republic of Women like a mantra.
Ursula Upstairs: A fictional singing teacher who lives in the flat above Marie's in Fitzroy Street. She plays Verdi's opera La Traviata over and over again, especially when she's drinking sherry alone at night.
Verdi, Giuseppe: The Italian nationalist composer born in 1813 at Le Roncole, near Busseto, in Parma. His operas include Nabucco (1841), La Battaglia di Legnano (1848), La Traviata (1853), and Les Vepres Siciliennes (1854), all of which are mentioned in Republic of Women. He was Giuseppina Streponni's lover for many years, and eventually married her. By the time he died in Milan in 1901 he was acclaimed as one of the world's great composers.
Violetta Valery: The central character in Verdi's opera La Traviata, based on the stage adaptation of La Dame aux Camélias, by nineteenth century French writer, Alexandre Dumas fils.
White, Mary: A fictional Aboriginal resident of St Kilda's public open spaces, and Queen of Fitzroy Street.
Copyright Merrill Findlay 1999
Content last revised March 2004. This page created 21 January 2008 and uploaded on this new site 23 January 2011.
Permalink for this page: https://merrillfindlay.com/?page_id=1361