MEDIA RELEASE
Arts OutWest, Monday 21 September 2020
Forbes' home-grown Kate Kelly chamber opera to be performed in major Victorian festival
Kate Kelly, the chamber opera co-created by composer Ross James Carey and writer Merrill Findlay in Forbes a decade ago, is to be performed online for a major national opera festival.
The Gertrude Opera Company in Melbourne will perform Kate Kelly for the 2020 Yarra Valley Opera Festival in October.
The Kate Kelly Song Cycle, as the chamber opera was initially called, re-interprets the life of one of Australia's most iconic women, the youngest sister of bushranger Ned Kelly. It emerged from Merrill's Kate Kelly Project and was first performed in Forbes on September 2011, as the headline act for inaugural Kalari-Lachlan River Arts Festival, beside the lagoon in which Kate Kelly's body was found in 1898.
A documentary of the project, Songs for Kate, was made at the time by Tracy Sorensen, and is distributed by Ronin Films.
​The 10-day program of the Yarra Valley Opera Festival in October is crammed with local and international treats.
Gertrude's artistic director, Linda Thompson says she is excited about her company presenting Kate Kelly.
"I looked for a piece that was an Australian woman's story and this is a little nugget," she told The Age newspaper. "The music is really exciting, [with] rollicking moments, beautiful moments."
The Yarra Valley Opera Festival performance of Kate Kelly will feature Emily Burke (soprano) as Kate, Andrew Moran (baritone) as Kate's husband Bricky Foster, and Michael Lapiña (tenor) as the grocer Quong Lee, whose aria describes Kate's life and death in Forbes. The choral parts will be sung by an ensemble of Gertrude Opera's Young Artists.  Patrick Burns is Music Director and Linda Thompson the Director.
Yarra Valley Opera Festival runs October 16-25. Kate Kelly will be streamed live from 7 pm, Saturday 24 October. More info and tickets:  www.gertrudeopera.com.au/kate-kelly-sister-of-ned
The original Kate Kelly Project was supported, in Forbes, by the Australian Government's Regional Arts Fund. The premiere of chamber opera in Forbes was made possible by a generous donation from Melbourne philanthropist Julie Kantor (Annamila P/L), and further financial support from Barbara Holloway (Canberra) and Robyn Prior (Melbourne), through the Australia Business Arts Foundation.
Links: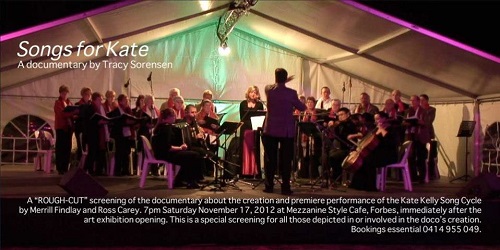 Page created 21 September 2020
Permalink: https://merrillfindlay.com/ccd-projects/kkp-the-kate-kelly-project/kate-kelly-at-opera-festival