The inaugural Kalari-Lachlan River Arts Festival, the Kate Kelly Song Cycle premiere, and The Kate Kelly Project, in Forbes, NSW, Australia
NEW: Festival Director Stefo Nantsou to work with schools and community groups in Forbes. See Forbes Advocate article below.
RADIO

16 May 2011: ABC Central West interviews Merrill about the new Festival Ministers, for radio news to be broadcast 17 May.
27 April, 2011: interview with Angela Owens, ABC Central Western NSW, on her History Spot, about The Kate Kelly Project's campaign to save one of the region's last Chinese grocery stores
19 March 2011: interview with Geoff Mann, ABC Central West, on his Saturday Morning Breakfast program, during Brunch On The Bridge, a community planning workshop on Bates Bridge, Forbes, to 'plot the program' for the first  Kalari-Lachlan River Arts Festival.
8 March 2011: interview with  Tony Wright, 2EL Orange, NSW, about the Brunch On The Bridge on his daily news and music show, Local Lunch.
PRINT MEDIA
Forbes Advocate, 14 April 2011, p. 5
_______________________________________________________________________________
Forbes Advocate, Saturday 26 March 2011, p. 7.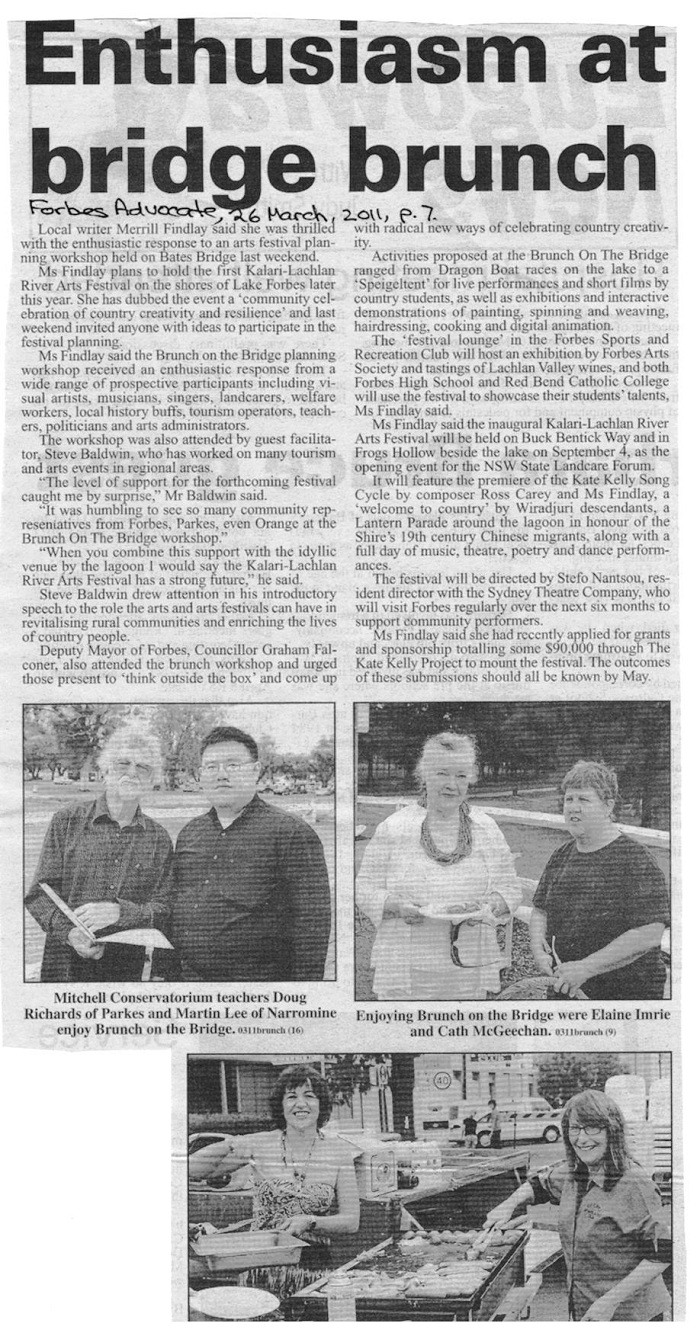 ____
____________________________________________________________________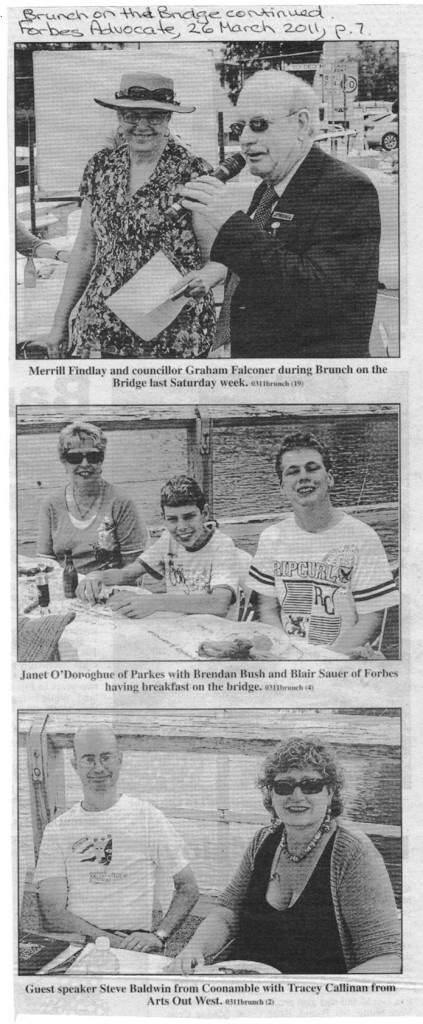 _______________________________________________________________
Forbes Advocate, 17 March 2011, p. 9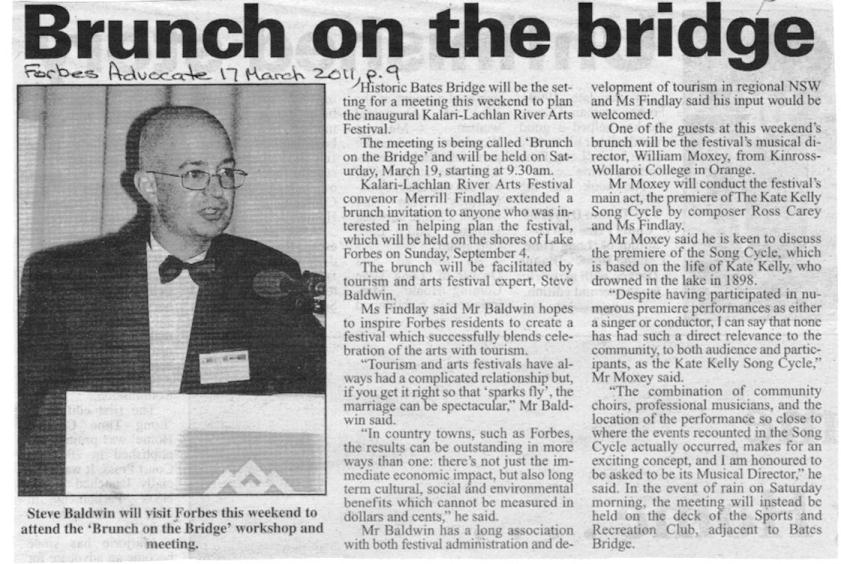 ____________________________________________________________________________________
Forbes Advocate, 8 February 2011, p. 6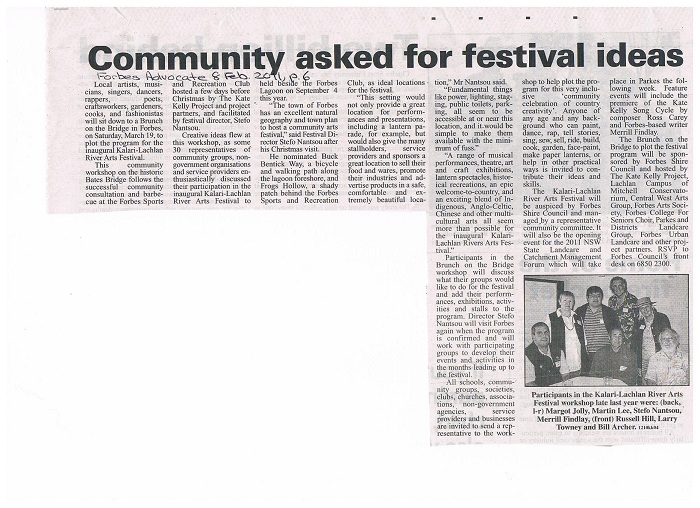 ______________________________________________________________________________________________
Forbes Advocate 5 February 2011, p. 3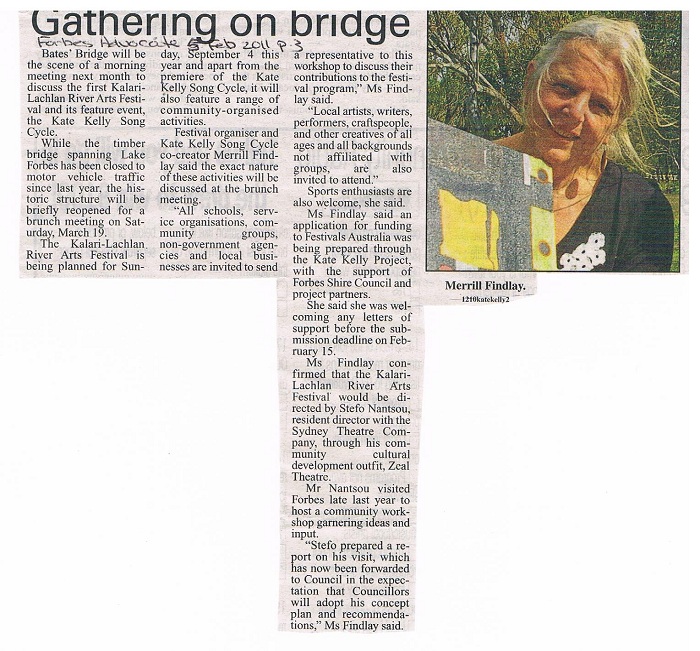 ______________________________________________________________________________________________
Forbes Advocate, 4 January 2011, p. 3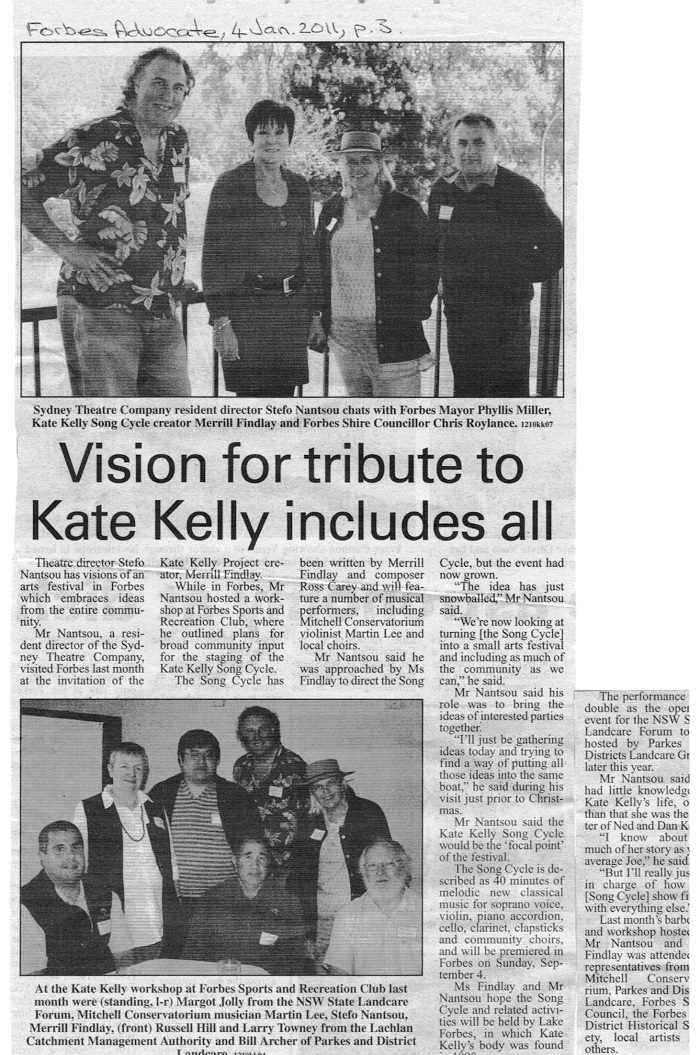 ______________________________________________________________________________________________
More on The Kate Kelly Project (KKP)
The Kalari-Lachlan River Arts Festival >>
The KK Song Cycle >>
The KK  Walk >>
On The Death Of Kate Kelly >>
Themes linking Kate Kelly's time with our own >>
Kate Kelly On The Lachlan 1886-1898 >>
In Memory Of Kate Kelly 1863-1898 >>
Project partners and acknowledgements >>
Quong Lee's Store >>
Project media
2008 >>
2009 >>
2010 >>
2011 >>
More on Merrill's project work >>
Page last updated 8 May 2011. Permalink:  https://merrillfindlay.com/?page_id=1398