Merrill's novel, Republic of Women, was published by University of Queensland Press in 1999. Read what other people have said about it.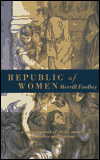 Donna Coates, 'Remaking history in St Kilda', Antipodes (USA) June 2002, pp 51-52, American Association of Australian Literature
In her lengthy Acknowledgements section to Republic of Women, Merrill Findlay comments that she wrote much of her first novel at "one of Melbourne's most significant cultural institutions," Leo's Spaghetti Bar, located in the bayside suburb of St Kilda, the area where she resides. Stressing that her novel is not autobiographical, Findlay admits, however, that anyone familiar with this ethnically and culturally diverse community will recognize some of the local denizens, depicted here as a motley crew of junkies, bag ladies, rooming-house tenants, gays, academics, and single mothers; a small band of (fictional) aborigines, presided over by the ironically named Mary White, also appear occasionally. Most of these "refugees from mainstream cultures" have chosen to live in St Kilda because no one judges the way they dress or speak or look; moreover, if they are down on their luck, they can rely upon the various charitable organizations in the community for support.
Readers familiar with Plato's Republic will also identify the affinities between the two texts. Neither has a plot, although both contain novelistic elements such as characters, conflicts and themes; in both, the dynamic discussion of ideas comprises the action. Findlay also derives her central focus – the oppression of women throughout history – from Plato, charging that when he "defined the future in his own image," he paid little attention to women who, during the Athenian period, were a suppressed lot. Confined to their houses and not formally educated, they could play no part in politics, vote, hold property, participate in or even attend (some say) athletic games or theatrical performances. It was also Plato's student Aristotle who recorded in his Poetics that women may be said to be "inferior beings, mere vessels for male seed" (148). Yet Findlay's imagined recreation of the lives of dozens of brilliant women artists and musicians (drawn from both fiction and "real life") demonstrates that it was their marginalized status that proved disadvantageous. She tells the stories of these talented women in the form of discontinuous narratives, a style many readers will appreciate, for their lives were unrelentingly bleak. At every turn, they were betrayed. Abandoned, forced to make enormous sacrifice for male pleasure, subjected to physical violence, and often forced into prostitution; many died prematurely from consumption, overwork, or sheer exhaustion. Only the brides of Christ managed to escape such dire circumstances.
Cleverly interwoven with these grim accounts of women such as the French courtesan Marie Duplessis, Dame Nellie Melba, and Rachel Chiesley, the Lady of St Kilda, are the stories of three contemporary women who live in the neighbourhood. (A helpful glossary provides brief sketches of nearly fifty characters and highlights the connections, often mythological, between them.) Their dialogues reveal that they want what women have always wanted – reciprocal, non-possessive, erotic relationships that will allow them to preserve their mobility, personal identity, and integrity – but achieving them remains elusive. They also suffer from matraphobia, for in the not-so-distant past, their maternal ancestors eked out lives of quiet desperation in traditional marriages. Only in the twentieth century, Findlay argues, has education freed women of the need to rely on the "goodwill" of men for their survival.
Findlay's main character, Marie, a twenty-something architect, teaches at a technical institute; her long-time friend, Elle, a graduate student, supports her six-year-old daughter Sophie by play in Lip Service, an all-female rock band. Whenever the two friends want to shoot a game of pool or sip coffee at Leo's, they take Sophie to visit her surrogate grandmother, Lillian, a sixty-something retired academic currently writing a book on the late antique figure Hypatia, a project which she describes as "a mythic reinterpretation of the rise and fall of patriarchy in the West, though the fall is still wishful thinking" (111). Having deemed Australia a wasteland for women in the 1950s, Lillian fled to Europe, knowing that if she wished to write, teach, travel, and make her mark in history, she must not marry or have children. Having returned to Australia in her twilight years, Lillian nonetheless remains so protective of her autonomy that she refuses to marry the Greek man she has loved for over thirty years, opting instead to maintain a very long-distance relationship.
Much of the novel is taken up with conversations that occur in Marie's bedroom, where she is literally making her bed so she may lie in it. The friends' frank discussions in this intimate space reveal that relationships with men are troubling, as a married man with children has just raped Marie on their second date. Lillian's travels have also informed her many women, even in First World countries, remain in chains. At the end of the twentieth century, then, the most these three can hope for is that Sophie's (C)hoices will be better.
Despite the title, men play a role in the text, as Heinrich, a gay accountant and partner to Marie's friend Denis, a former sex worker and intravenous drug user, is also "occupying" a bedroom where a number of men in camouflage gear gather to play war games dating back to the Peloponnesian hostilities. Unlike the women's dialogues, which turn on matters of the heart, the men's operate by the "rules of antipodean masculinity" (104); referring to one another as Anonymous John or Anonymous Carlos, these "mates" fail to acknowledge personal histories. It is important to stress that Findlay is not setting up strict binaries which suggest that only men can talk battle talk: Elle also knows her way around battlefields. But her interest in war – she's writing a thesis on sovereignty – is borne out of her desire to understand her Italian parents' decision to immigrate to Australia. And whereas Elle is cognizant that women have been mere "apostrophes" in men's histories, these armchair warriors play out their strategies without ever acknowledging that women, too, lived through these tumultuous times. Findlay underscores that men's constant re-visiting of the past has not taught them how to live peacefully, as the frequent references to twentieth-century calamities such as the First World War, the Holocaust, Vietnam, Sarajevo, and East Timor attest.
The novel is not entirely bleak, however, for like Plato's disciples, Findlay's characters also consider how to construct a successful society. The women conclude that, although much of St Kilda is being destroyed by postmodernist trendiness, it nonetheless remains a vital and fulfilling place to live. Further, they view the community as contributing to a new country which, because of its "climate, biodiversity, geomorphology," as well as the presence of "indigenous people who are changing us newcomers" (237), has the potential for greatness, to be the kind of society that has "never existed before" (237). And they might be right.
That this well-researched and finely constructed novel should be Findlay's first is astonishing. (She has previously published on environmental issues, some of which concerns appear in the text.) Thus her newness to the genre may account for her trepidation, raised in the Acknowledgements, that women may fail to identify with her characters. Her fears, however, are groundless. We do. We really do.
Published on-line with kind permission from both the reviewer, Donna Coats, and Antipodes journal.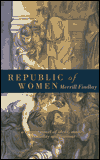 Roberta J. Bolton in Idiom 23
vol. 14, no.1, 2002
Central Queensland University, Rockhamption 4702
The author's descriptions are captivating. …This is an easy read for the keen reader, especially if time is spent in considering the issues raised.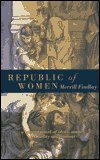 Roberta Buffi in Leggere Donna,
Italia, September-October 2000
Translated by Mirna Cicioni. Published on-line in full with permission.
Merrill Findlay's entry into the Australian literary scene is definitely an ambitious one. From its initial pages, Republic of Women shows really admirable breadth of research and skill in bringing political and historical issues together into the present life of multicultural Melbourne.
The plot of this novel is deceptively simple: the Australian writer represents the daily concerns of some characters – mostly women – who spend their lives in the Bohemian suburb St.Kilda, between a cappuccino sipped in Leo's café, recurring memories of infatuations and love affairs which resist time and distance, and endless dialogues on how to find the meaning of life. This is, possibly, the great ambition of Merrill Findlay's female protagonists: Marie, a young architect and teacher in the middle of a painful, not very clearly-defined relationship with a Sydney university lecturer; Elle, a rock musician and single mother from a Sicilian background, struggling with a PhD thesis on Anita Garibaldi; Lillian, a feminist and retired academic with an international reputation, constantly torn between her longing for freedom and the temptation to give in and settle down with her longtime Greek lover, Sokrates.
Uninhibited and unrestrained sexuality, lifestyles which go against the norms set by a highly conservative society, and the recurring rape of the environment, caused by apathy and ignorance, are some of the issues which concern the three women. In his Republic, Plato had put forward a model of an ideal, and therefore difficult to implement society, in a period in which he, himself, was forced to acknowledge the flaws of Athenian democracy, as well as the decline of the Greek empire. In a century, which until its very end, has witnessed unspeakable atrocities, in a world where it does not yet seem possible to end racial and sex discrimination, and in a country – in this novel, Australia – which is yet to make a public apology for the massacres and mistreatments of its indigenous people, how could it be possible to envisage a community truly free from prejudice and violence, and supported by the creativity and imagination of its members? A "Republic of Women" is the notion conceived by the three protagonists of this novel: an optimistic, rather than utopian, notion. The envisaged society is one where marginalisation, on any ground, would be ruled out, and where the accepted idea of "freedom" would be inseparable from principles of ethics and harmony. Above all, this society would be bold enough to go beyond the barriers of the conventions established by still-patriarchal community structures, and would rely instead on women's creative potential.
Republic of Women is a continuous celebration of women's creativity, in the meaning of both women's skills and artistic talent, and capacity to procreate. The lives of Marie, Elle and Lillian constantly intersect with the lives of the goddesses of Sumerian-Babylonian, Greek and Roman mythologies; they develop in parallels with the lives of historical figures such as Alphonsine Plessis, Anita Garibaldi, Giuseppina Strepponi and Nellie Melba. Merrill Findlay makes sure she always foregrounds these women, reaffirming various forms of greatness, which have all too often been understated in public history written by men.
In Republic of Women  there are references to wars, both recent and remote in time, to past and present epidemics, and to the different ways in which people can free themselves from foreign oppression, through war, or through art. An important part of the novel is dedicated to the Holocaust, the Vietnam war, the tragic events in Bosnia and Rwanda, the Peloponnesian war reinacted by Heinrich – Marie's friend and HIV-positive Denis's lover – with his own miniature soldiers, and the independence wars of the Italian Risorgimento, to which writers and composers made considerable contributions with their words and music. The long and complex labour of research for the book is explained by the author in a detailed Afterword, accompanied by a brief note about the many imaginary and real people who appear in her narrative.
Ultimately, however, it can be suggested that the real protagonist of this dense, very intense novel – where the Melbourne of the late 1990s is evoked with the same power and calligraphic precision of the Athens of Socrates and Plato, and the Paris of La Dame aux Camélias, and where the paths of over fifty characters, women and men, past and present, keep intersecting – is La Traviata. The notes of this opera – sung by Ursula, who lives in a flat in St. Kilda, in the same block as Marie, and there on a daily basis re-stages the well-known tragedy of Violetta Valéry –  are the pervasive soundtrack of Republic of Women.
Translation by Mirna Cicioni, Monash University, Melbourne
(Thank you Mirna, mf)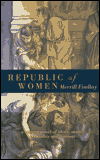 Murray Waldren in The Weekend Australia
4-5 September, 1999
Merrill Findlay spent seven years on her debut novel, Republic of Women (University of Queensland Press, 280pp, 1999), and it shows in the book's astounding historic and sociopolitical range. … A virtual madrigal of music and metaphysics, it explores, then subverts, accepted notions of war, nation-States, environmentalism, love, sexuality, relationships and betrayal with unflinching honesty. … [A]tapestry that is kaleidoscopic. … [A]n exhilarating expedition into territory beyond the reach of most contemporary Australian fiction.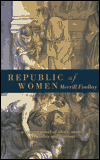 Susan Hawthorne in The Australian's Review of Books, October 1999
This is an assured novel by a young writer. Set in Melbourne's St Kilda, it is full of characters with odd habits and lifestyles. In case you think from that description that it's grunge, far from it. This is a novel with a deeply intellectual base, from the resonances of Plato in the title to the war games of Heinrich and his anonymous friends who replay the moves of the Spartans, Corinthians and Athenians in the flat over Fitzroy Street.
Each of the characters has her or his own obsession. Marie's obsession is Marie (Alphonsine) Plessis, the model for Violetta, the heroine of La Traviata, variations of whose story are told throughout the novel. It's a story, in part, of rags to riches, but also of the price women pay for independence.
Marie's neighbour, Lilliam, has two obsessions. One is the pantheon of goddesses after whom her child neighbour is named. Lillian weaves a series of oral, alternative histories of the world for Sophie, telling her the stories of the ancient godds and goddesses and providing her wth a world history that gives women an active part to the play. Lillian's other obsession is her former lover from Alexandria, Sokrates, and his story intersects with the book she is writing, The Death and Resurrection of Hypatia. Hypatia was an ancient physician and citizen of Alexandria, torn apart and tortured by the men of Alexandria threatened by her wisdom.
Sicilian Elle, another friend of Marie's, is researching the history of Garibaldi's rebellion as a way of reclaiming and coming to know her own history. What she discovers is that, in retelling history, only the names change.
It is as though St Kilda has become a place where many of the histories of the world cross — from Denis-Dammuzi, the boy who will die young, to Sophie-Sophia, who will inherit the earth, and everything in between. The novel is a kind of vision of how the richness of ordinary people's lives–especially their inner lives–can come in a community that allows a kind of eccentric diversity.
AlthoughI had moments of impatience with this novel, wamtomg something more to happen in the external world, I did like the way in which so many different strands were woven together from the characters' family and cultural histories as well as their intellectual interests and obsessions. The acknowledgements and character notes that follow the novel also provide insights into the work and its genesis. I have no doubts that Merrill Findlay will go on to write some fine works of literature.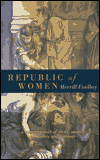 Michell Griffin in The Sunday Age
15 August 1999, Melbourne
Although we are rapidly introduced to a host of free-living folk living in and around Fitzroy Street, St Kilda, Findlay's book is far more a novel of ideas than characters. Architect Marie and her friends are often moved out of the way to make room for playful essays about Plato's Republic, courtesans of ancient history and musing on the passionate Roman temperament. We seem to spend as much time on the long-gone Medeterranean as we do on the Esplanade, which is fine by me. The philosophical component seems more real than the drama of the present-day ensemble, wo act as the Greek chorus to the ideas of the author.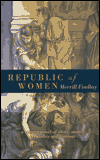 Susan Taylor in The Central Western Daily
Saturday, 22 January, 2000, Orange, NSW
The literary world is a strange and demanding world to enter as any new writer will attest.
To an outsider it seems almost surreal with its own language, mores and select groups of critics who can make or break new talent.
Publishing houses are even tougher to crack: all they are interested in is the bottom line and that means that new authors have to be saleable on a personal level to bolster manuscripts that "sell".
Merrill Findlay's initial work fits the bill on all counts. Written in an engaging style with quirky characteres who resonate with life, it mixes music, sex, ancient Greek heroes and myths with humour.
It is also great fun to read matching the characters new and old with wondering if you are imagining the connection. Opera lovers will really love the way Findlay inserts the tragic Violetta from "La Traviata", Verdi's best loved work, into her storyline. Metaphors abound and those of you who enjoy a pro-active reading exercise will roll up their sleeves and dive in immediately. Set in slightly seedy St Kilda and peopled with the likes of Daphne Downstairs, a "…73-year -old woman who lives in the flat immediately below Marie …" and Denis "Marie's friend, Heinrich's lover, and a former sex worker and intravenous drug user", Findlay weaves them into a seamless whole.
Part of the magic is Findlay's simple prose which brilliantly off-sets the complicated layers of the storyline. Unlike many books that fall into the literary genre, it is not a difficult book to read and enjoy.
It is a book to pick up and reread after cogitating its intricacies and finding something new to enjoy and that is the hallmark of a true literary feat.
Findlay is currently researching a new work incorporating Cervantes, Goya and Merino sheep.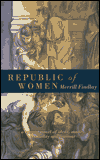 Alica Belyea in The Australian Women's Book Review
Volume II, 1999
Republic of Women is a novel that questions the basis of contemporary Western thought. Merrill Findlay's latest novel rejects Plato's republic and its influence on modern life and chooses an ideal made from the interwoven beliefs of a pseudo-family of distinctive characters. Republic of Women centers around a small community of friends and neighbours in the Melbourne suburb of St Kilda. Findlay contrasts their lives with similar stories found in classical myths and fiction.
St Kilda is home to author Merrill Findlay, and also to the exotic assembly of characters, vital to our engagement in the sometimes confusing narrative of parallel storylines.
Marie is part of the supportive community of idiosyncratic neighbours. She is a twenty-something resident of Fitzoy Street. Trained as an architect, Marie teaches at a Melbourne tertiary institution while she develops her expertise as an environmentally aware designer. She is single and deals with issues to do with casual sex and dating.
Ursula lives in the flat upstairs and teaches singing. She plays Verdi's La Traviata repeatedly, especially when drinking sherry alone at night. Verdi's opera is used as a thematic link to similar stories from Mary Magdalene to Dumas.
Born in Sicily, Elle shares Marie's upbringing in the country Victorian town of Ballarat. Of similar age, Elle is a single parent studying as a postgraduate, living in a converted stable behind the Esplanade Hotel. She also sings in a rock band.
Lillian, a retired professor, and close friend of Marie and Elle, is surrogate grandmother to Elle's daughter Sophie. She is an acclaimed author, and the wise older voice. She recounts the loves of the female deities and goddess[es] within Greek mythology which form parallel storylines in Republic of Women. She chooses to work in Australia, although her lover lives in Alexandria.
These four women drive the narrative. Lillian, Elle and daughter Sophie, Marie and Ursula, combined ambiguously with homosexual (yet very feminine) Denis, along with less central characters are their own republic of women.
We reflect on the stories of mythical, fictional and historical characters as we pass through the events of this St Kilda community. If the reader does become bewildered by the amount of ongoing stories, Merrill Findlay has listed all for reference. Descriptions at the end detail, and contextualise the characters. Merrill Findlay researched the novel extensively, documenting the versions of all stories and myths.
Read Republic of Women and be prepared to be refreshed with its relevance to modern life as we all struggle to explore alternative ways of living, borrowing from and rejecting the ideals of the past.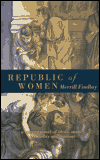 Tejay M Sener in The Postgrad
Volume 6, Issue 4, October 1999, Melbourne Republished in with permission.
 "Who are we, where have we come from, where are we going to?" Merrill Findlay in her new book, REPUBLIC OF WOMEN (University of Queensland Press, available at the bookshops now) proposes some answers to the above. For a mere male, the lucid history and folklore packed in this book is a bonanza and for 20 bucks it's a bargain of an education. Highly plausible, creative and informed St. Kilda characters are gently introduced with a smattering of referential flashbacks to history and mythology. Sorry, I should say herstory, for our (his)tory has often neglected women, if not mentioning them as minors, or in demeaning ways: "Who knows what the women did … When you read the history books, it's like they never existed."
The novel switches from scene to scene, from present to past, from fact to myth much like it was written for a more feminine version of a Tarantino script. It's loaded with heady bohemian seduction, erotica, sex, sin, lust and the all-to-often tragedy of unrequited love that women experience as much as men. Whilst the claim that "Women's erotic potency …[is] the basis of all religions" sounds both plausible and damning, sufferers of FOI (Fear of Intimacy) may find the obsession with erotica and sex a bit too much,… too … 🙂
There are definitely some feministic themes within the novel, but it is nevertheless one of those books that is more holistic in its consideration and should be on the shelf of any man or woman who realises what complementarity can offer for the open-minded. For example, it is shown that just about everything can be sourced to women and/or associated with women, including the arrangement of billiard balls. Aside from that, I found the novel educational, the perspectives it offered enriching, and the excerpts from history, as well as the mythology fascinating. The novel offers the more plausible concept of a holy trinity than the male dominated church's father, son and the holy ghost. Certainly it brings to mind the sacrifices countless women have made with desires, needs and ambitions in the past, and how present circumstances still enforce such sacrifices.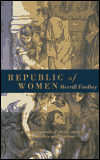 Shaunagh O'Connor (ed)
Off the shelf Herald-Sun Weekend
4 Septempber 1999
From 17th-century Europe to contemporary St Kilda, these often-challenging tales of women's lives celebrate passion, identity and diversity. Findlay weaves portraits of historical women such as lovers of famous painters with fictional accounts of modern, urban women to explore the dynamics of women's sexuality and desires.
Content last revised 21 January 2008. Posted on the new web site 4 December, 2010.
© This material is subject to copyright and any unauthorised use, copying or mirroring is prohibited.
Permalink: https://merrillfindlay.com/?page_id=560