In this novel of striking intellectual subtlety and authority, Merrill Findlay probes questions of sexual identity in a voice that is radical, humane, angry, tender, and always true to the complex reality of her characters. With the assured craftsmanship of an already accomplished novelist she brings past and present into relations that deepen her characters and their preoccupations and the reader's pleasure in her evocation of contemporary St Kilda.  
Raimond Gaita on the back cover, Republic of Women (UQP 1999)
Publisher's outline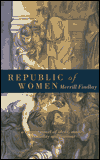 St Kilda is home to a vital community of free-thinking individuals, and Merrill Findlay introduces an exotic cavalcade of characters. As they work and love and play, Marie and her friends explore alternative ways of living in their threatened inner-city environment. In doing so they question the philosophical basis of much contemporary western thought, rejecting the tenets of Plato's ideal republic and its continuing hold on the politics of today.  The shared joys and tragedies of their daily lives are interwoven with a rich plenitude of stories and myths from the past, in a compelling narrative that culminates in an emotionally charged and satisfying finale.
BUY Republic of Women >>
 READ an extract >>
The phone rings, someone pushes the security buzzer and Daphne Downstairs pops in the back door. At the very same moment, Marie hits her thumb with the hammer. Goddamn, she says and sits on a fruit crate. The phone's still ringing, the buzzer's still buzzing and now her thumb is throbbing. She sucks it then leans out the window. Look, I don't believe in god and I'm really busy, she tells the two Jehovah's Witnesses at the security door below. More >>
Study Notes
Discussion notes on Republic of Women are available through the Council of Adult Education (CAE), Melbourne, Victoria.
The Reviews >>
Donna Coates, 'Remaking history in St Kilda', Antipodes (USA) June 2002, pp 51-52, American Association of Australian Literature: That this well-researched and finely constructed novel should be Findlay's first is astonishing… >>
Roberta J. Bolton in Idiom 23, vol.14, no.1, 2002: The author's descriptions are captivating…  >>
Roberta Buffi in Leggere Donna, Italy (Sept-Oct. 2000): Melbourne of the late 1990s is evoked with the same power and calligraphic precision of the Athens of Socrates and Plato, and the Paris of La Dame aux Camélias …  >>
Murray Waldren in The Weekend Australian (4.9.99):… an exhilarating expedition into territory beyond the reach of most contemporary Australian fiction. It rewards the discerning… >>
Susan Hawthorne in The Australian's Review of Books (10.99): … a kind of vision of how the richness of ordinary people's lives — especially their inner lives — can come in a community that allows a kind of eccentric diversity.  >>
Alicia Belyea in The Australian Women's Book Review (Vol. II, 1999): Read Republic of Women and be prepared to be refreshed with its relevance to modern life as we all struggle to explore alternative ways of living, borrowing from and rejecting the ideals of the past…>>
Susan Taylor in the Central Western Daily (22.1.00): Part of the magic is Findlay's simple prose which brilliantly off-sets the complicated layers of the storyline … >> 
Tejay Sener in the Postgraduate Review, RMIT University: For a mere male, the lucid history and folklore packed in this book is a bonanza and for 20 bucks it's a bargain of an education. …The novel switches from scene to scene, from present to past, from fact to myth much like it was written for a more feminine version of a Tarantino script…>>
Michelle Griffin in The Sunday Age (15.8.99): Although we are rapidly introduced to a host of free-living folk living in and around Fitzroy Street, St Kilda, Findlay's book is far more a novel of ideas than characters. >> 
Shaunagh O'Connor (ed) Herald-Sun Weekend, 4 September 1999: From 17th-century Europe to contemporary St Kilda, these often-challenging tales of women's lives celebrate passion, identity and diversity… >>
Index of characters >>
A simple interactive Who's Who for readers of Republic of Women >>
Cover Art >>
Artwork by designer Kate Barry featuring School of Women by Australian artist Megaera >>
Republic of  Women wine >>
A rich merlot by Margaret River winemaker, Jane Moss. A first-time collaboration between an Australian wine maker and a novelist >>
Literature as a tourist asset … >>
Reflections on Republic of Women and other geographies, including the Melbourne suburb of St Kilda where this novel is set, for the Australian Studies conference, Changing Geographies: Australia and the millennium, Australian Studies Centre, 1st Universitat de Barcelona, Catalonia, 2-4 February, 2000. Merrill was a guest author at this conference.
BUY Republic of Women at Amazon >>
More of Merrill's fiction >>
Merrill's non-fiction >>
Page history: uploaded to this new site December 2010. Last revised 23 January 2011.
Permalink: https://merrillfindlay.com/?page_id=3358
© This material is subject to copyright and any unauthorised use, copying or mirroring is prohibited.