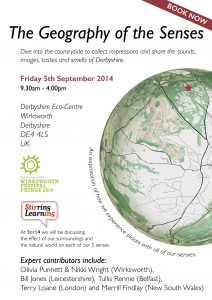 September 2104: Alastair Clark and his crew from Stirring Learning, in Derbyshire, has invited some of us creatives to talk about our sensory experiences of place at Geography of the Senses, a Wirksworth Festival Fringe event on 5 September.  I'm meant to be talking about the putative Sixth Sense … but what I have to say might be a bit controversial to some people.
I'll be participating from Australia by video and Skype. My fellow participants include visual artist Olivia Punnet and Nikki Wright from Wirksworth; artist David Ainley, who teaches at the University of Nottingham (more); writer Bill Jones; musician Terry Loane; and sound artist/ composer Tullis Rennie who, although born and raised in Wirksworth, is now based in Belfast.
Here's a taster, as posted on Youtube by Alastair, with thanks to Maryanne Jacques and ArtsOutwest.
Read my presentation here >> [pdf 430 kb]
More on our farm, Gunningbland Creek, and the Kalari- Lachlan River >>
[Read the Pavilion blog on Geography of the senses >> ]
Geography of the Senses will unfold at the remarkable Derbyshire EcoCentre in Wirksworth. My participation follows my 2013 visit to Wirksworth as part of the Pavilion Project, a collaboration between Arts OutWest, Derbyshire County Council and the Wirksworth Festival. (More)  While we were in Wirksworth, Alastair and his colleagues led us Australians on a very memorable ramble through local forests, grasslands, farmlands and old mining sites to personally experience — with all our senses — some of the places they are so intimately connected to. After walking those lush green hills and dales, however, I'm wondering how the Geography of the Senses participants will perceive the wide open spaces, slow meandering waterways and big blue skies of my homeland …
Maryanne Jacques, from Arts OutWest, videotaped me talking to the Wirksworth crowd from the middle of a paddock on our family farm on Gunningbland Creek, in central New South Wales, as a continuation of our Pavilion Project. Alastair collected the video via Dropbox to show at his live event … and I'll be there via Skype.
I'm really looking forward to meeting, albeit remotely, my fellow participants in the Stirring Learning gig.
Thank you Maryanne and Arts OutWest. Thank you Alastair. Oh … and Alastair is tweeting on #stir14, so why not join the conversation  ….
Page created 22 July 2014. Last updated 3 September 2014.
Permalink: https://merrillfindlay.com/?page_id=3840