2020 Update: The primary outcome of my Kate Kelly Project, a chamber opera I co-created with composer Ross James Carey, was performed by Gertrude Opera Company for the Yarra Valley Opera Festival, Melbourne, on 24 October 2020. This was an online production because of the COVID pandemic.Fantastic reviews. Read them here >>
Press release (ArtsOutWest 21Sept. 2020) here >>
The original song cycle score has now been revised for three voices: Kate Kelly, her husband Bricky Foster and her grocer Quong Lee. Libretto available here >>
[See Songs for Kate, a documentary by filmmaker Tracy Sorensen about this project. Available for purchase through Ronin Films.]
The daring Kate Kelly how noble her mien
As she sat on her horse like an Amazon queen,
She rode through the forest revolver at hand
Regardless of danger, who dare bid her stand
Australian folk song: Ye Sons of Australia
The Kate Kelly Project (KKP) was initiated by Merrill Findlay to creatively explore and interpret the life and times of an iconic Australian woman, Ned Kelly's sister Kate, whose body was recovered from the Forbes Lagoon in October 1898.
'This is, and will continue to be, an amazing project!' Regional Arts NSW's Funding Manager Annette Eassie commented at the end of  KKP Stage II (RAF, 24 January 2011).
It is "a wonderful example of the way in which the arts, through the narrative of an historical icon, can touch on so many contemporary themes and lead to such a vastness of community involvement and interest," she said.
The KKP was conceived and developed by Merrill  in 2006/07. Its initial objective was to collaboratively develop a music-theatre work based on original research, which could be extended, as time and money permitted, into a full-blown opera. This first goal was achieved in 2011 with the premiere of The Kate Kelly Song Cycle at the inaugural Kalari-Lachlan River Arts Festival: 60 minutes of very melodic new classical music for soprano, violin, piano accordion, cello, clarinet, and community choirs. Score by composer Ross James Carey. Libretto and narrative concept by Merrill Findlay. More >>
Kate Kelly on the Lachlan, an article about the project published in the international peer reviewed journal Rural Societies 2012, 21:12, pp. 136-145 [pdf]  Download full article here >>
Photos of The KK Song Cycle premiere in 2011  >>
Tracy Sorensen's film, Songs For Kate, about the making of The Kate Kelly Song Cycle, is now distributed globally through Ronin Films. Buy it  here>>
Read Sophie Harris's article, Songs for Kate highlights Merrill's work, here >>
Another spin-off from the Kate Kelly Project: Adrian Symes' video interpretation of Kate's life, using drawings he created for Songs For Kate >>
Gria Shead's 2014 exhibition, Flash Kate: the forgotten Kelly, was also inspired, in part, by the Kate Kelly Project. View the exhibition video on Vimeo >>
And read Renee Powell's report, Kate's Tale, in the Forbes Advocate, 17 July 2014 >>
SELECTED MEDIA ABOUT THE KATE KELLY PROJECT
November 2012, RAA e-bulletin: River of ideas sparks community festival >>
February 2012: Kate Kelly On The Lachlan, a scholarly article in the international peer reviewed journal Rural Societies >>
September 2011, ABC Central West: Forbes plays host to world premiere of Kate Kelly Song Cycle >>
August 2011, ABC Radio National: NSW Town to celebrate Ned Kelly's sister in song, Kate Kelly Song Cycle composer Ross Carey, librettist Merrill Findlay, and soprano Sian Prior discuss the project with Greg Muller on Bush Telegraph  >>
June 2011, ABC 774 Melbourne: Sian Prior discusses The KK Song Cycle with Jon Faine >>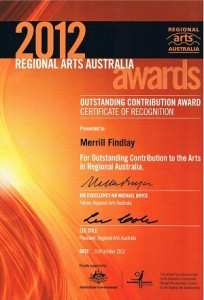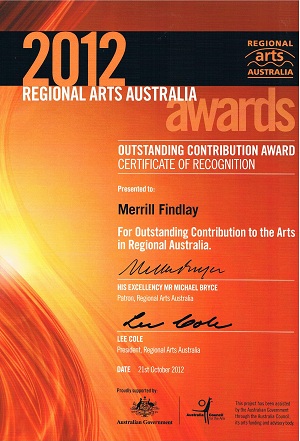 OUTSTANDING CONTRIBUTION AWARD
Merrill was presented with the Regional Arts Australia's 'Outstanding Contribution Award' at the national conference in Goolwa, South Australia, for establishing the Kalari-Lachlan River Arts Festival in Forbes, NSW, another of the many outcomes of the Kate Kelly Project. She was nominated by members of the Forbes community.
'As a writer, I believe passionately in the power of narratives to effect change, and in the responsibility of arts workers to be agents of change,' Findlay said, in response to the award. More >>  And more >>
OTHER OUTCOMES 
As well as the Song Cycle, the River Arts Festival, the documentary Songs For Kate by Tracy Sorensen, works by other artists, plus various publications by Merrill Findlay, the Kate Kelly Project has also inspired a number of other initiatives, including ….
– The Kate Kelly Walking Trail and occasional Kate Kelly Heritage Tours organised through the local Heritage Committee  and the Forbes Historical Society
– A campaign to stop the demolition of the historic Quong Lee's Store next door to where Kate's inlaws, the Foster family, lived from the 1860s, and where Kate herself would have shopped
– A leaflet about Kate's life in Forbes which is now distributed through tourist outlets
– Signage and landscaping near where Kate's body was found, including a walking trail (some signage installed but landscaping and the trail itself still to be completed, as of December 2010)
– Restoration of Chinaman's Bridge and its very degraded 'creeklet', which runs into Forbes lagoon through or near what may have been Ah Toy's market garden (restoration still to be completed as of December 2010)
– Rehabilitation of the 'creeklet' and its wetlands (in concept stage only, but landscape designs completed)
– A 'biodiversity corridor' the full length of the creeklet's length to create more public open space, link townsfolk on the western side of Forbes with the lagoon, and manage stormwater run-off into the lagoon more effectively (as of December 2010 a concept design has been developed and is awaiting approval)
– Restoration and revegetation of the lagoon foreshore along the reach where Kate's body was recovered in 1898 (not yet started, as of December 2010)
– Rehabilitation of remnant native grasslands near the lagoon (not yet completed)
– An increased awareness of the richness of the region's indigenous and non-indigenous cultural heritage and C19th histories
– Several new ' tourist destinations'
– A heightened sense of place within the local community
GRATEFUL ACKNOWLEDGEMENTS

The initial phases (research and development) of the Kate Kelly Project were funded by a small grant from the Royal Australian Historical Society, through its Local History Research and Publication Program, and from December 2008, by a much larger grant from the Regional Arts Fund, an Australian Government initiative supporting the arts in regional and remote Australia.
The premiere of the Song Cycle was made possible by a generous donation from Melbourne philanthropist Julie Kantor (Annamila P/L), and further financial support from Barbara Holloway (Canberra) and Robyn Prior (Melbourne), through the Australia Business Arts Foundation (now Creative Partnerships Australia). Thank you.
These multiple outcomes of the Kate Kelly Project demonstrate, once again, the value of investing in community cultural development, and the important role creative people can play in inspiring and co-creating more vibrant, resilient and ecologically sustainable communities in regional Australia.
More on Merrill's project work >>
Page history: published on this new site December 2010. Last revised 27 October 2020.
Permalink: https://merrillfindlay.com/ccd-projects/kkp-the-kate-kelly-project