Nanima Station, a large irrigration and grazing property on the Lachlan River near the historic village of Gooloogong, was acquired by Paul Wenz in the 1890s. It is currently home to Janet Moxey,  patron of the Paul Wenz Society, and owned by her family's dairy company, Moxey Farms Pty Ltd.
Nanima is a Wiradjuri word which, according to contemporary Wiradjuri informants, may have meant either 'a sitting down place' or 'something that is lost'. (An Aboriginal Reserve of the same name was established near Wellington in 1910 and is now owned and administered by a local community organisation.)
These photographs document life on a pastoral station in Wiradjuri Country in the late 1890s. The originals were bequeathed to the Mitchell Library, State Library of NSW, by Paul Wenz's widow, Hettie Wenz nee Dunne. These images were scanned from a set of prints sent to then-Forbes Mayor, Clive Thomas, in 1990 by Tom Thomson, publisher of Wenz's Diary of a New Chum and other Lost Stories. The Mayor passed them on to the then-Forbes librarian, Jenny Hawkes, and I found them in the Library's Wenz file in 2004. They are published here as part of the Paul & Hettie Wenz Project. A fuller collection of ímages taken by Paul Wenz is now in the Mitchell Library Collection, Sydney.
Virtual Exhibition: images from the Wenz Collection, Forbes Library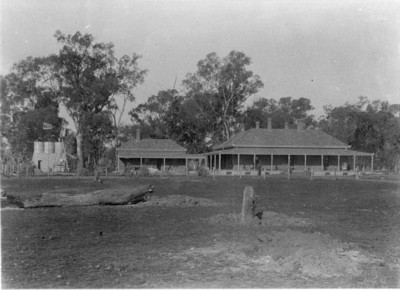 Nanima Station homestead. The house was constructed from bricks made on the property and roofed with tiles Marseilles tiles. The tree line at the back of the house marks the Lachlan River. Photograph by Paul Wenz c. 1898.
Paul Wenz and his early busines partner, William Dobson (left), celebrating the completion of Nanima homestead with a case of Krug champagne in the garden in 1898.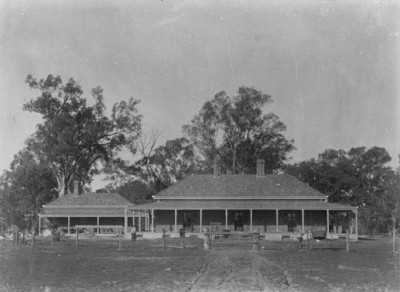 Another view of Nanima homestead, c. 1898. If you look closely you'll see a bicycle leaning against the front fence.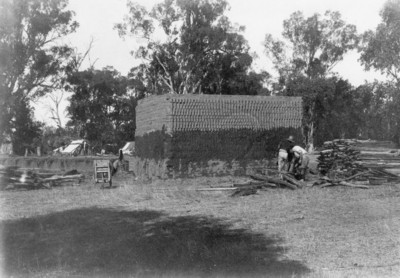 Drying the bricks for the homestead at Nanima, c. 1898. Notice the stacks of split timber, presumably cut from the property to fire the brick kiln. Photo by Paul Wenz.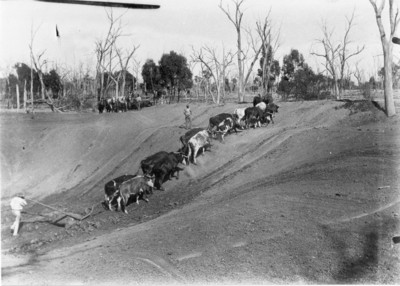 Removing a rock during dam building on Nanima Station, c. 1898. Notice the already ring-barked eucalypts surrounding the dam site. Photo by Paul Wenz.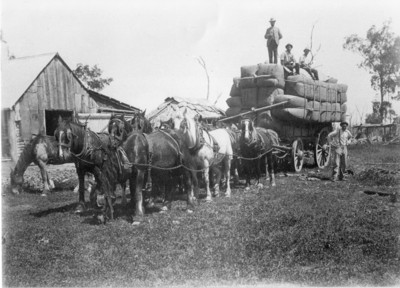 Wool bales ready  for the long haul from Nanima to the railhead in either Forbes or Cowra, from where they would be hauled to Sydney to be loaded onto sailing ships bound for Europe. Photo by Paul Wenz.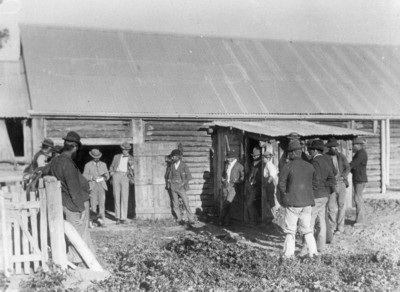 Pay day at Nanima: shearers waiting outside the shed.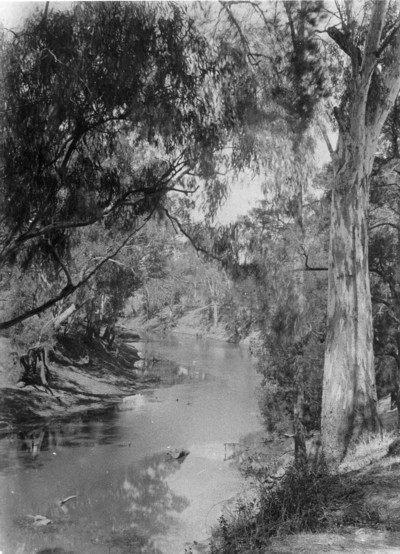 The Lachlan River at Nanima when it was still more or less a wild river, before the era of  large-scale irrigation and the construction of Wyangla Dam upstream from Cowra. Photo by Paul Wenz.
More on Merrill's project work >> 
 Page created 23 June 2004, last revised 12 May 2008, and re-posted on this site 23 January 2011. Permalink: https://merrillfindlay.com/?page_id=1645.
© Protected by copyright.