Arts OutWest | Promoting, facilitating, educating and advocating for arts and cultural development for Central West NSW
PO Box 8272 CSU LPO Bathurst NSW 2795 |Phone 02 6338 4657 | Fax 02 6338 4646 | artsoutwest@csu.edu.au
www.artsoutwest.org.au
MEDIA RELEASE: ARTS OUTWEST
October 25, 2012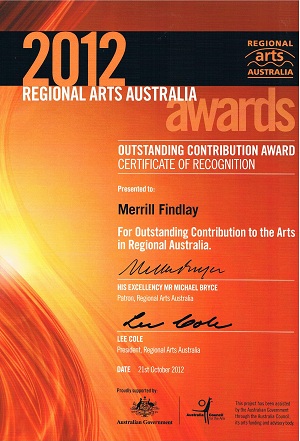 Forbes writer and festival director Merrill Findlay has been presented with one of
seven national awards for an "outstanding contribution to the arts in regional
Australia."
The seven state winners of the Regional Arts Australia awards were presented at the RAA
National Conference Kumuwuki / Big Wave in Goolwa South Australia on Sunday 21
October.
The RAA Awards program endeavours to acknowledge and inspire others to engage, lead
and commit to the success of our art and cultural communities across Australia.
Merrill Findlay was nominated by members of the Forbes community for conceiving,
developing and leading the inaugural Kalari Lachlan River Arts Festival in 2011.
Merrill Findlay is an Australian writer, scholar, cultural development practitioner and social
innovator. With composer Ross Carey she wrote the new classical music opera 'The Kate
Kelly Song Cycle' which formed the artistic backbone of the first Kalari Lachlan River Arts
Festival.
"As a writer, I believe passionately in the power of narratives to effect change, and in the
responsibility of arts workers to be agents of change," Merrill Findlay said. Saying the festival was very much a team effort, she accepted the award on behalf of all the volunteers who worked on the event.
The RAA Awards program acknowledges the invaluable contribution practitioners like Merrill make to the cultural life of their local communities. These awards recognise outstanding contributions from a rural or regional arts based volunteer who has been involved in an arts project, event, organisation or community in regional Australia.
"Many of the country's creative practitioners end up being volunteers in their community.
Probably more so in regional areas," said Arts OutWest executive officer Tracey Callinan.
"They so generously give their time, expertise and energies to local projects, mostly without any financial reward. In an ideal world all arts professionals would be paid for all the work they do, but we know that many of the great events and arts projects in our region and beyond just would not happen without the volunteered time of highly skilled professionals like Merrill."
Regional Arts Australia's Patron His Excellency Mr Michael Bryce, AM, AE, presented the
awards to the 2012 recipients. The state and territory winners had received, as part of their
prize, a complimentary registration to the RAA National Conference in Goolwa.
"The many thousands of individuals who volunteer their time and skills to ensuring the
cultural health of their community is without doubt one of the key pillars of guaranteeing
regional and remote arts opportunities exist," said RAA Executive Director Jane Scott.
Press release reproduced here courtesy of Arts OutWest
More >>
Page created 17 February 2013. Permalink https://merrillfindlay.com/?page_id=3074